By Suzanne Mills
February 06 2011 – newsday.co.tt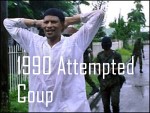 Hindsight they say is 20/20 and so I wonder if the police who disobeyed the order of the TT government to attack the Muslimeen with full force later felt any regret.
They may not have been pained by guilt pangs over their cowardice and treachery, but with time, surely they had to see how incredibly, colossally stupid and shortsighted they had been. With the passage of years, revenge for a reduced salary must have tasted less sweet when they realised they'd forfeited the population's respect that July. The army was seen as saving the day.

The police had to feel foolish as the future unfolded: 1990 obliterated the little regard Trinbagonians had for law and order. After 1990, Muslimeen arbitration would replace the legal resolution of conflicts and Abu Bakr's criminal band was more respected and feared than the TT Police Service. Bakr walked the land like an emperor, a star, a mafia boss. Who can forget the alarming Muslimeen show of force in Woodford Square in late 1995 after Patrick Manning announced a snap election?
On an ordinary weekday afternoon, hundreds of Abu Bakr's male and female soldiers, aggressive, disciplined, radios in hand and clad in stiff scarlet uniforms, took charge of the square, converting TT's police into standing jokes. The officers on duty appeared helpless and inadequate as Bakr's red army encircled the bandstand, pushing them and everyone else toward the fringes of the square, almost onto the rails. In a public space, while Bakr ranted about who to vote for, Bakr's bullies openly and freely shoved and intimated citizens of Trinidad and Tobago as they wished. How could one hold the police in esteem?
Full Article : newsday.co.tt