By Raffique Shah
January 29, 2011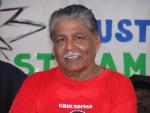 DURING the formative years of the United Labour Front (ULF), circa 1975/76, I learned some harsh lessons in "politics by vaps" courtesy an often-tipsy Basdeo Panday. Those occurrences come to mind as I watch amazing scenes played out on the national stage. Since the lead actress is Panday's successor, Prime Minister and UNC leader Kamla Persad-Bissessar, who has publicly stated that Bas is her "political guru", maybe there is a nexus between what happened so many moons ago and what is happening today.

Without going into details of how the ULF was almost stillborn, or attempting to debunk the myth that Panday alone founded the party, I shall relate incidents that are relevant to today's muddled politics. Before the ULF formally became a political party in March 1976, it was an alliance of four vibrant trade unions. The principal leaders were George Weekes, Panday, Joe Young and me. In many ways, not the least being my age (I was not yet 30), I was the baby among veterans.
Weekes, a father figure to me, persuaded me to sacrifice some principles I held firmly to, on the altar of what he saw as political progress. I saw it as political expediency, but "PG" (as Weekes was fondly called) had me commit myself to the embryonic ULF. Before the labour group morphed into a political party, "PG", Bas, Joe and I would hold meetings with our union supporters in districts like Barrackpore, Penal, Rio Claro—mostly in Central Trinidad and the Deep South.
It was customary after such meetings that we would stop off at some village rum shop. I was never a drinker of note: one or two drinks of rum-and-coke were my limit. "PG" was more seasoned, and Bas more adventuresome. By this I mean Bas did not consume much alcohol, but two or three drinks would send him into the tipsy zone. Anything more than that, we'd be looking for Vishnu (his nephew) to drive his Kingswood, to ensure he reached home safely.
At every village rum shop, one is sure to encounter a "mayor" or other spokesperson, who, sufficiently plied with liquor, would expatiate. One or two such characters would come to our table and reel out their ideas, some worthy, others gibberish or rum-driven-tatah. But as good leaders, we would listen. Bas, however, would often take these exchanges several steps higher.
"My brother!" he would say, "You sound like a very intelligent man. What's your name? Where do you live?" "John Singh, sir! I live in Lengua!" the now excited drunk would respond. "John, come to my office tomorrow…I want to interview you…you seem to be a good candidate for county council elections!" The drunk, buoyed by Panday's liquor-fuelled praises and invitation, would show his appreciation by offering to replenish our supplies.
Multiply the scene described above by 100, and you get a better picture of our plight. General elections were more than a year away, and no one knew when local elections (called county councils then) would be called. But Bas was already sharing "seats" in rum shops. George and I treated his foibles as "rum talk", paying little attention to his promises. Only later would they return to haunt us when some of these characters actually turned up for screening as candidates.
In instances, Panday insisted that these sometimes-dubious characters be accepted by the ULF's screening committee, or he would take his marbles and walk. His attitude brought the party to the brink of collapse before the 1976 general elections. He would wreak more havoc by the time local elections came around in 1977. He saddled us with candidates whose only merit, if it could be so described, was their blind loyalty to Bas. Less than a year later, I had had enough of his shenanigans, and the rest is history. I never looked back, and he kept moving forward.
In today's confusing tragedy of errors that seems to be a fixture in the UNC-led coalition government, I wonder if what we are witnessing is not a replay of a 35-year-old comedy. What criteria are being used to appoint persons to some of the most critical positions in the State apparatus? I do not wish to beat up on Reshmi Ramnarine, since hers is not the only questionable Government appointment. In fact, I feel sorry for her. Clearly, she is the victim of horrendous intra-coalition bungling.
I rather suspect that much the way Bas screened drunks in rum shops, certain powerful People's Partnership officials are interviewing potential office holders at cocktail parties. Everybody is high like the proverbial kite, and someone on higher heights says, "Come and see me in my office tomorrow, darling! You look eminently suitable for the position of ambassador to the Pitcairn Islands or Tokelau." How else does one explain some of the appointments the Government has made thus far? Possession of a party card? Texture of hair or colour of skin? Or how much money one is prepared to plough into the People's Partnership's coffers?
Whatever methods they are using in appointing persons to sensitive or strategic positions, clearly there are no logical guidelines. This seeming chaos at the highest levels of government has led to embarrassment, to minister after minister having to change tunes before they are even sung, to withdraw appointments, to apologise almost every week, as I wrote in my last column.
When the People's Partnership got rid of Patrick Manning, I thought, "Good riddance!" Now I wonder about that.