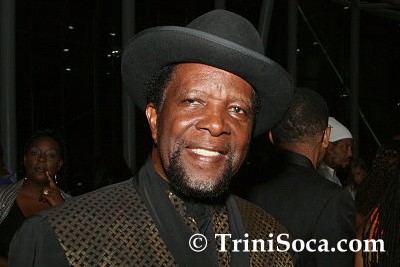 Leroy 'Mighty Conqueror' Paul
Leroy 'Mighty Conqueror' Paul was struck by a car on the night of Thursday 27th January, 2011, while crossing Wrightson Road near the Kalypso Revue Tent at SWWTU Hall. He succumbed to his injuries in hospital. 'Mighty Conqueror' was on his way to rehearsals for the 2011 Calypso tent season. His hits included "Trinidad Dictionary", "Woman And Money" and "Fresh Water Yankee". He was 71.

The Calypsonian had just concluded what would be his last interview on Power 102's "With Men in Mind" hosted by Norma Clarke.
***
Conqueror dies in road accident
Eyewitnesses said the calypsonian was still conscious but in great pain as several of his fellow bards surrounded him and tried to render assistance. Among them was Sugar Aloes, who held the critically wounded calypsonian as he lay on the ground, and Arts and Multiculturalism Minister Winston "Gypsy" Peters. Conquie was still alive when an EMS ambulance arrive on the scene to transport him to hospital but died sometime later.
Conqueror killed on way to rehearsals
The calypso world was plunged into mourning on hearing the news that calypsonian Conqueror (Leroy Paul), 75, was killed on Thursday night after being struck by a car while he was attempting to cross Wrightson Road in Port of Spain.