Newsday Editorial
January 23, 2011 – newsday.co.tt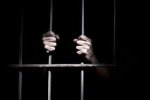 WE are entirely dissatisfied with the turn of events at last Tuesday's sitting of the Lower House that passed the Miscellaneous Provisions (Remand) Bill 2010.
We believe that in the recent swirl of late night sittings and rushed legislation, the far-reaching consequences of this Bill have not at all been spelt out to the general public, but for the cautions issued by Diego Martin North East MP Colm Imbert and Port-of-Spain South MP Marlene Mc Donald.

We alert the population that the Bill would allow a person to be jailed for 28 days before being allowed to appear before a magistrate to apply for bail, to have the case dismissed or to plead guilty and pay a fine in settlement.
Under this country's system of justice, an accused person is presumed innocent until and unless proven guilty.
At present an accused person must be brought before a magistrate within eight days of arrest, and we cannot support the Bill's move to extend this imprisonment of a person — presumed innocent — to almost a month.
While Attorney General Anand Ramlogan might be correct, according to the written word of the law, to say that the Constitution gives a suspect no specific right to a speedy trial, we say that allowing the police to hold a suspect for 28 days without access to bail is surely a blot on this country's system of administration of justice.
Even if the Constitution doesn't debar it, such an extension of detention time from eight days to 28 days is without a doubt a serious erosion of basic human rights in this country, in one fell swoop.
Sadly in piloting the Bill, Mr Ramlogan littered his speech with a host of red herrings, in our view deliberately designed to muddy the waters of the real issue as to how long should a suspect reasonably be held before his court case is begun.
Ramlogan spelt out the frustrations of the court system, saying suspects appear in court unable to afford a lawyer and having few legal aid attorneys available and criminals commit crimes while out on bail, and that repeated adjournments frustrate witnesses. Continuing to try to make his case (by spelling out the obvious), Ramlogan said the high crime is affecting the population's safety and psyche.
Further he said the Bill would cut the $12 million annual cost of transporting suspects to jail, plus the cost of paying court staff and police officers who facilitate the frequent sittings. He hoped that the fewer sittings under the Bill would help cut the magistrates court backlog of 421,000 cases.
Our view is that all of Mr Ramlogan's concerns may well be justified, but that does not give the Government the right to try to solve them all by the supposed magic bullet of severely reducing a suspect's access to justice.
If court clerks are overworked, hire more court clerks. If holding cells are cramped, then build more holding cells. If magistrates are overburdened, then train more magistrates, we say, as we lament that Hugh Wooding Law School rejects 90 percent of law graduates who apply to do their requisite legal practice training.
If, as the Attorney General argues, it is unrealistic and impractical to send suspects to court every eight days, and if that time is insufficient for prosecutors to prepare their cases, then those problems must be fixed by the State, but suspects must not be deprived of their very liberty just because of the State's inefficiency.
Imagine, the Attorney General trying to cite a reduced catering bill to try to justify jailing suspects for 28 days without a hearing!
The recent trend of late-night, marathon sittings has seen debate on this Bill, a motion on the Prevention of Corruption (Amendment) Bill, and the Firearms (Amendment) Bill which all deal with fundamental issues of constitutionality and/or human rights.
The Government is doing nobody any favours by hurrying badly-drafted laws, many of which are likely to be struck down by the law-courts as unconstitutional.
We hope that the Senate can bring cooler heads to prevail on the issue of remand.
http://www.newsday.co.tt/editorial/0,134529.html