By Raffique Shah
January 23, 2011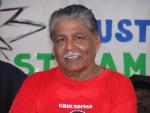 WHEN Attorney General Anand Ramlogan made a fool of himself in Parliament by insinuating that ex-prime minister Patrick Manning may have stolen or otherwise disposed of "one grand piano" (as auctioneers would say), many may have missed the irony of Ramlogan's boorish behaviour. "Wey the piano gorn?" Anand brayed, looking pointedly at "Patos".

About a year earlier, Manning stood in the House, almost on the said spot, and looked directly at now-Opposition Leader Keith Rowley, asking with an air of authority and a note of triumph, "Where the $10 million gone? I ask the Member for Diego Martin West, where the money gone?" The sum in question allegedly disappeared from the HDC, which, at some point in his ministerial tenure, fell under Rowley's portfolio.
Rowley would later prove there was no money missing, but to what end? Everybody who looked at the then PM as he posed the question, would forever feel that somewhere along the way, Rowley misappropriated $10 million. In fact, Manning hounded Rowley on other issues relating to possible corruption, the biggest being the "Landate Affair".
Rowley was exonerated through the findings of a government-appointed probe, and through the courts. It must have cost him some money to do that. Indeed, at the time he was under Manning's microscope, Rowley had to watch every step he took, carefully weigh every word he uttered.
So when Ramlogan made his spurious allegations against Manning, in many ways it was a case of poetic injustice. "Do so ent like so", Trinis would say. Before the piano in question was "discovered", many people I know believed that the former PM did steal the macco-music-machine. If the man could say "PM" on a document meant "project manager", a blatant lie, then the piano could well be tucked away at Juliana Pena's quarters or at some other secret location, they argued.
Of course, when the truth of the matter surfaced, it was embarrassing to several persons in the People's Partnership Government. For the umpteenth time since he was elevated to an office that seems to burdensome for him, Ramlogan has made a fool of himself. He would never admit to that. But one has merely to look at the number of scandals he claimed to have unearthed, the accusations of impropriety against former government ministers and top ranking officials, to understand the measure of the man—or lack thereof.
Like most citizens, I expected that his many "revelations" would have resulted in the arrests of high-profile thieves. Hell, it's not as if that's breaking new ground. The Manning Government, under the much-maligned AG John Jeremie, was able to bring charges of malfeasance against a number of ex-ministers, senior government officials, and business magnates who straddled the political divide.
True, none has been convicted thus far, except ex-PM Basdeo Panday, whose appeal is pending. The inordinate delays in bringing these matters to conclusion have more to do with the complex courts process than with innocence or guilt. That is one reason why I fully support Government's bid to cut some of the judicial red tape by fast-tracking trials, once a person is charged with an offence. It is fair to both the accused and the State (in criminal matters), and to litigants in civil matters.
I particularly like the idea of eliminating preliminary enquiries in indictable matters. This time-wasting exercise places unnecessary burdens on already overworked magistrates. It also punishes accused persons who may end up spending more time in jail awaiting trial, than sentences a magistrate or judge would eventually impose on them if they are found guilty. I like, too, the video-conferencing option to save time and costs, and even the idea of placing a few courts in or close to the jails in order to speed up the justice system.
But I return to Ramlogan and his hollow ranting that is almost a weekly fare in Parliament. The "piano affair" is only his most recent blunder. When asked if he would apologise, the AG said he would not—unless he is ordered to so do by the Prime Minister! Does he understand the implications of that statement? An apology under duress? It takes a big man to say sorry for having said or done something that is wrong or offensive. A manicou would do otherwise.
When Education Minister Dr Tim Gopeesingh stood up in the House last week and apologised to Rowley for an erroneous statement he had earlier made, he came across as a gentleman, as someone who has class. I note that Anil Roberts has refused to apologise to Rowley for a statement he made, which he insists is supported by documentation. I hope he is right: if someone stands on solid ground, there is no need to be contrite.
I have written an entire column in which the words "apology" and "apologise" recur with annoying frequency. Sadly, they speak of what the Government has delivered most in its short stint in office…a string of "sorry" and "apology". That's not good enough for a coalition that held out so much hope to a population that felt battered by the authoritarian conduct of those on high in the previous regime.
The Prime Minister has said that 2011 is "the year of delivery". For her sake, and the country's, I hope she lives up to expectations. I also hope that she reins in runaway horses like her AG, who is becoming an embarrassment to her Government. Hope, hope, hope…what a thing!