By Raffique Shah
March 02, 2008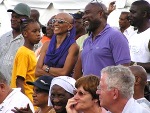 ONE week spent in Jamaica is far too little time to assess the state of the country or to enjoy its many scenic and special attractions. Most of the latter are way up the mountains or beyond, on its tourist-oriented north coast. Kingston itself is a city of stark contrasts. Like most of its sister cities in the region, it has enclaves that exude wealth-colonial bungalows set on over-sized, manicured plots, with newer, impressive mansions perched on hillsides surrounding the city.

But the omnipresent security guard booths tell a story of insecurity, of the wealthy living in fear of crime and shielded from the poor. I didn't make it to Trenchtown and similar slums where people eke out an existence. But as I normally do whenever I visit a country, I struck up conversations with ordinary people, vendors, taxi-drivers, cleaners, just to get a feel of what life is like at the lower end of the economic and social strata.
Much like the poor in our country, even though they suffer in silence, they display vivacity, a friendly disposition towards total strangers that defies the wretched conditions under which they exist. Security guards, for example, endure the dangers of their jobs for pittances as low as J$800 (around US$12) for a 10-hour shift. Those at the lower end of the hospitality sector earn even less. With the cost of living, more so food prices, rising as it is everywhere else, life is becoming tough for the mass of working poor. I read where the Bruce Golding government is taking measures to cushion the impact of food-driven inflation, but even here in Trinidad and Tobago, where the government is cash-burdened (as distinct from cash-laden, given the way they throwing a billion here, five billions there!), such measures are difficult to sustain.
What is required is more cooperation among countries in the region, not just those in Caricom. I've been preaching the gospel of shifting our people's tastes for staples we don't produce to those we do or can produce.
In St Kitts, for example, closure of the sugar industry has spawned a serious attempt at growing more local foods, and even prodding the country's hotels and restaurants to promote indigenous foods. St. Kitts has successfully re-kindled growing white potatoes. In Jamaica I had "bammy", a very tasty, cassava-flour dumpling. One can also get plantain as a side-dish in most hotels and restaurants. Cassava flour is being pursued here.Many ex-cane farmers are already growing hundreds of acres of the tuber at a guaranteed price that brings them far higher returns than cane did. This is one avenue to escape our wheat flour dependency.
But I digress. I also enjoyed interacting with young people, some of them students at Mona, others workers. Last Sunday afternoon, Khafra Kambon and I did a Walter Rodney-style "groundings" with a group of UWI students on benches under some trees. What they had to say was more important than what we related to them-snippets of the story of 1970. These young people are concerned about their future, their chances of entering the job-market at a decent level, about the effects of global warming, about the environment. They are worried about the world my generation bequeaths them. And that generation includes PM Golding and Patrick Manning, who spoke at Mona on the Friday night I was enjoying snapper-and-bammy and bottled coconut water at Port Royal.
On another positive note, while I missed out on the Clico Marathon for the first time in its 26 years, I enjoyed a schools' relays meet at the National Stadium. At least 8,000 vociferous fans crammed the venue to watch tomorrow's Asafa Powells and Merlene Otteys strut their stuff. The mood was festive, whether the race involved under-13s or those about to break into Usain Bolt's territory. It was quite unlike here where, even when our senior athletes are on show, we catch hell to attract 3,000 people in the stadium. Yet we wonder why their track and field stars are world class while ours struggle to make the Olympic Games' qualifying times.
As my writer's and activist's eyes absorbed different aspects of life in this original island-in-the-sun (well, Harry Belafonte is Jamaica-born), I followed the debate on traditional reggae music versus the dancehall trend that is taking over the art form. At the International Reggae Conference, from what I heard (it clashed with my Black Power Conference, one building away on the campus), eminent contributors dealt with the power of reggae over the inanity of dancehall music. The many columnists and commentators who chose to join in the debate reminded me much of our own musical dilemma, the seeming demise of lyrical calypsoes and "sweet soca" as grunting, screaming and military-style ordering rule the roost.
Most of all, though, that short stint in Jah-land showed me why we need more than CSME. We need to bring our people closer together, not just facilitate traders. We have so much in common. We can achieve so much more through unity. One Caribbean. One love. Let's get together, as the prophet of reggae sang.