By Stephen Kangal
October 21, 2010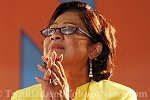 Prime Minister Kamla Persad Bissessar and her itinerant Foreign Minister Suruj Rambachan have both been extolling the important benefits of establishing closer functional links with our diaspora based in metropolitan Caribbean enclaves in North America and Europe as the rationale for radically reforming the priorities of our foreign policy. In fact both now have a shared political/administrative responsibility for the conceptualization and conduct of our foreign policy.

These diasporic communities demonstrate a clear, continuing and compelling emotional attachment to mother T&T whom they adore with an unbridled passion even though living thousands of miles away. That is the genetic link resulting from the principle of the territorial imperative. It is therefore not surprising that our Prime Minister during her recent visits to New York and Miami was showered with such overwhelming adulation and received pledges of support for her Children's Life Fund and foreign investments.
Our diaspora represents a strategic beach-head of foreign political influence and power that can serve as an effective conduit for our Government officials to gain access to and lobby the power-brokers and entrepreneurs in metropolitan countries. Many of our citizens are elected local and central government operatives.
They are also a skills bank that can contribute to the technological and administrative development of T&T especially in the health/IT sectors. T&T societies send on an on-going basis various forms of assistance to the local NGO's not to mention the remittances sent to their loved ones. In fact Jamaica is solvent today only because of huge remittances received from its diaspora.
Our diaspora serves also as an increasingly lucrative market for our exotic foods, fruits and vegetables, condiments, cultural products including carnival costumes, fashion industry and the chutney and soca artistes of our local entertainment industry. They alone provide our artistes with all-year-round revenues.
In the face of this compelling scenario what kind of strategic foreign policy refit must we adopt to connect with and tap into this huge reservoir/outpost of foreign political influence, foreign currency earning markets, loyalty and patriotism and expanding pool of bankable skills?
As a starter let us accredit our Inspector of Missions as an ambassador to the T&T diaspora with a special assignment to service these communities in close collaboration with our respective embassies and to be annually accountable to our Prime Minister for his/her stewardship.
The Government of India has appointed a Minister of Overseas Indians/ annual Pravasi interface to serve/reclaim and benefit from its 25 million diaspora with telling results. Our PM may attend this annual homecoming, Moolook pilgrimage in January next.