By Stephen Kangal
February 14, 2008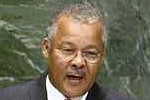 The damaging legacy bequeathed by the Barbados Labour Party's dethroned Ex-Prime Minister, Mr. Owen Arthur in contributing to the turbulence that marred and blemished T&T/Barbados relations for the fourteen years of his Prime Ministership must not be allowed to accompany him unnoticed and unrecorded as he rides into the political sunset of Barbados. He personified the traditional "Baje" who is always one -step ahead of the unsuspecting and accommodating Trini.

In fact former Prime Minister Owen Arthur detected the personal leadership weaknesses of PM Manning very early in the diplomatic exchanges. He zeroed in on this sitting target and rifled his responses with the surgical precision of a keyhole surgeon. T&T paid and continues to pay a heavy price in the bilateral exchanges that followed. Arthur exploited our leadership liability to the max but to the optimum benefit of Barbados both at the multilateral Caricom level as well in our bilateral relations.
Former PM Arthur invoked a dubious but sporadic fishing access to flying fishing grounds off Tobago to claim sovereignty and ownership over all the marine areas including the platforms located on the sea-bed and subsoil located outside of the 12-mile territorial sea around north Tobago before the Arbitral Tribunal constituted to determine the maritime boundary. T&T must never allow Bajan fishermen access to our fishing grounds again for this reason alone.
Prior to this outlandish claim he even gave notice to the international community that all the maritime areas lying outside of the 12-mile territorial sea of T&T including our hydrocarbon producing platforms were in disputed waters. He wanted to dissuade potential oil companies from investing in T&T. He even tried to scuttle our cross border MOU on gas unitisation with Venezuela having dispatched letters of protests to Venezuela. He ganged up with Prime Minster Jagdeo of Guyana to conclude an EEZ Co-operation Agreement to oppose the T&T/Venezuela Maritime boundary that he subsequently accepted in 2006. He accused T&T of appropriating Barbados and Guyanese maritime territory.
PM Manning visited Bridgetown on 16 February 2004 at the head of a T&T Delegation appointed to conduct on-going bilateral maritime boundary negotiations. On that very day and while PM Manning and his delegation were in a hotel in Bridgetown waiting for the meeting, Arthur was in contact with the UN lodging a unilateral formal action to haul T&T before compulsory UN arbitration. There was no meeting. He insulted PM Manning by not having the courtesy to inform him of this action. Manning returned home a sorry sight with diplomatic bruises.
During the boundary impasse Arthur threatened the security of our huge investments made by T&T nationals in the economy of Barbados. He even threatened to repatriate our nationals and appropriate our substantial $60bn stake that props up the Barbados economy. Our vegetable farmers and fruit exporters who sustained the Bajan tourist industry with a reliable supply of high quality products were arbitrarily denied further access to the Bajan market without licences in clear and naked violation of the rules of Caricom free trade.
He even attempted to test the resolve of Manning and our Coast Guard and to violate our territorial integrity by threatening to send Bajan fishermen to fish illegally off Tobago for flying fish. We were forced to release two Bajan fishing vessels that were arrested for fishing illegally off Tobago and up to today this is a national issue.
The real and lasting final rites of the legacy of Arthur on TT/Barbados relations is that of rendering T&T permanently zone-locked and shelf-locked with no high seas access to the Atlantic in 2006. In the process and with the connivance of the Arbitral Tribunal he deprived T&T of nine thousand of potentially hydrocarbon rich square nautical miles of our extended continental shelf/Exclusive Economic Zone that appertained to T&T from the 1990 TT/Venezuela Delimitation Agreement. He assimilated these marine areas under the jurisdiction and control of Barbados in perpetuity. Barbados will soon seek to legitimise this claim by submitting it for ratification to the UN Commission on The Limits of the Continental Shelf.
The only redeeming feature of that sordid legacy of one-upmanship over T&T is that Arthur did not join the Petro Caribe pilgrimage to Caracas for fear of T&T refusing to refine its miniscule domestic crude production. But it is intensifying its licensing arrangements to exploration and exploitation companies to search for hydrocarbons in the intervening additional delimited maritime areas that is has gained from the Judgment of the Tribunal.