By Nalinee Seelal
Wednesday, February 13 2008
newsday.co.tt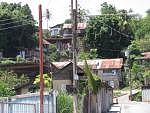 Crime weary Laventille residents fear their lives and those of their families are in danger and believe gangs will strike back when a lockdown on their community is lifted.
"They are afraid of no one, and when the police and soldiers end this exercise and return to their bases, the gang members will strike again, so the exercises taking place will only prevent the killings and violence temporarily," one woman told Newsday yesterday.

She was one of several women who expressed outrage and fear over a joint police and army lockdown which began at Picton Road at about 9 pm on Monday.
There has been an upsurge in murders and shootings at Picton Road where homes have been firebombed.
The women said the criminals the protective services had searched for had left Laventille, among with scores of residents, and are likely to return when the police withdraw, leaving them vulnerable once more to attacks.
Most men remained in hiding yesterday, and the few that ventured out were searched by the police and soldiers.
The women, some of them grandmothers who had their grandchildren with them, spoke out against the manner in which they and their homes had been searched.
The searches were ordered by Police Commissioner Trevor Paul, Chief of Defence Staff Brigadier Edmund Dillon and Director of the Special Anti-Crime Unit Brigadier Peter Joseph.
Senior Supt Errol Dillon led the heavily armed contingent of 150 police officers and soldiers on the searches at Picton Road which were extended yesterday morning to Beverly Hills. Units also spread out to Canada, Plaisance Terrace, John John, Snake Valley, Desperlie Crescent, Rose Hill, St Barb's, Eastern Quarry, and Pump Trace.
One Beverly Hills woman defiantly declared that she won't be run out of hercommunity but made a desperate plea for peace to return to Laventille.
"I have no fear. I not in any war with anybody, and I want peace to come back in the area. I want the area to have peace again where everybody free to come and go when they want," she said.
The angry woman said the police behaved aggressively with residents during the searches and linked the gang warfare to a government apartment complex in Beverly Hills. She said gang members fought over who is going to get accommodation and jobs. The complex has been under construction for the past five years.
"Let the apartment building finish because all the crime here associated with that apartment building and it have too much square pegs in wrong holes," said the woman. Four years ago, her house was shot at but no one was arrested.
The overnight raids had been prompted by the firebombings and three murders which took place between Carnival Saturday and last Sunday.
The police detained five men, aged 21,22, 24,28, and seized 17 bottles of Molotov cocktails, camouflage gear and weapons during the lock down.
Molotov cocktails had been used in an arson attack on three homes, which sparked an exodus of residents from Picton Road on Sunday that continued yesterday. No one was in sight on Picton Road yesterday.
Investigators said Beverly Hills was targeted because they believed the persons behind the violence at Picton Road were hiding out there.
What the police found
Police and soldiers found the following illegal items during searches at Plaisance Terrace, Canada and Beverly Hills yesterday.
17 bottles of Molotov Cocktail
One bullet proof vest
34 rounds of .38 special ammunition
Two-12 guage cartridges
19 rounds of 7.62 ammunition
Eight camouflage hats
Three ski masks
One camouflage gloves
500 grammes of marijuana
http://www.newsday.co.tt/news/0,73167.html