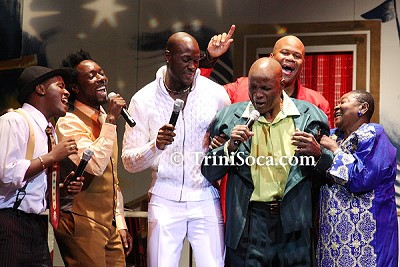 NAPA Fest in pictures
July 29, 2010
Sparrow doing well after surgery
Renowned calypso icon Slinger Francisco, popularly known as Sparrow, is resting comfortably at a private hospital in Maryland, United States, after undergoing emergency surgery.
…Sparrow well after surgery
Slinger Francisco (The Mighty Sparrow) was yesterday in good spirits and recuperating well following emergency surgery on Sunday to treat an incarcerated right inguinal hernia.

Sparrow's family disgusted with death rumours
Thursday, July 22 2010
The family of veteran calypsonian Mighty Sparrow (Slinger Francisco) has expressed shock and disgust after false rumours began circulating about the death of the icon on Tuesday.
Rumours that Sparrow had passed away circulated throughout the airwaves and on various websites yesterday, prompting shock among many of his fans. His family is calling it a vicious act.
Margaret Francisco, Sparrow's wife, said Sparrow is alive and well and is resting comfortably. She said he is still awaiting results of his recent medical tests. She noted that this is not the first time that death rumours have affected her family.
"This is not the first time people are spreading death rumours concerning my husband. I think it is vicious and I hope that the people who started it would understand the effects that they are causing on his family. They are causing unwanted stress for my family," Francisco said.
Sparrow, whose illness is yet to be diagnosed, has been the centre of much attention after appearing in a wheelchair as part of the cast at NAPA Fest. Those who attended the concert saw a mere shadow of the charismatic performer.
http://www.newsday.co.tt/news/0,124408.html
***
Get well soon, Birdie
For as long as most of us can remember, the Mighty Sparrow has been an integral part of the social and political fabric of Trinidad and Tobago. Throughout his five and a half decades as a much-heralded entertainer, Sparrow has won the acclaim and respect of adoring fans throughout the world, but more particularly in the Caribbean and in the West Indian diasporas.
Sparrow to get medical results today
The Mighty Sparrow is today expected to receive the results for medical tests he did in New York right before coming to Trinidad for two shows at the National Academy for the Performing Arts (NAPA) in Port of Spain at the weekend.
Friend: Sparrow insisted on performing
The Mighty Sparrow (Slinger Francisco) made a supreme effort to be on his feet when he performed "Congoman" at the National Academy for the Performing Arts (NAPA) on Sunday night.
Ailing Sparrow still 'mighty'
ALTHOUGH ailing, Calypso King of the World Slinger Francisco (Mighty Sparrow) was declared "still mighty" by many patrons attending the Sunday show at the National Academy for the Performing Arts (NAPA) where the veteran calypsonian was among a cast of performers.
Eyes on the sparrow
It was a sight to make big men cry and some did—seeing a sick Sparrow singing sitting, Saturday, on the NAPA stage capable, it seemed, of less, well, flight than a caged bird. It was not that Sparrow, at 75, was expected to cavort like when he was 25 (even James Brown had to slow down) but that he was not even able to stand was something, disturbingly, else again.
Sparrow has mystery illness
Calypso icon Slinger Francisco, popularly known as Sparrow, says he might be suffering from vertigo. Once more, Francisco's mortality has been the subject of discussion; especially after his not-so-perfect performance at the NAPA Fest, Port-of-Spain, on Sunday night.
Two mothers mourn
"My son was a good son, dedicated to policing. I never thought he would have been killed. When he was alive, he never thought it would have happened to him," is how Rosemary John remembered her murdered son, PC Elton Erickson John.
Tears flow at NAPA as stricken Sparrow sings
The audience at the National Academy for the Performing Arts (NAPA) in Port of Spain was shocked on Saturday night, as they watched the Calypso King of the World, the Mighty Sparrow, sit throughout his entire performance during NAPA Fest.