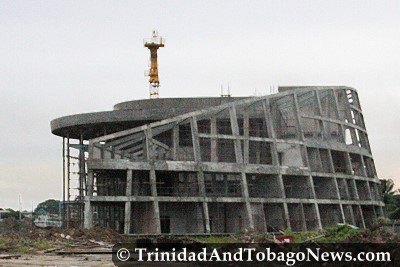 By Cecily Asson
July 01, 2010 – newsday.co.tt
Minister of Planning, Economic and Social Restructuring and Gender Affairs, Mary King yesterday revealed that and additional $90 million is needed to complete the National Academy for the Performing Arts (NAPA), Todds Street, San Fernando while a "few hundred million more" is needed to finish the Chancery Lane Complex a short distance away.

King also stated that work on the multi-million dollar complex, which is scheduled to house several government offices, came to a halt in April after contractor Johnston International left the site. No reason, she said, has been given and they are now in search of a new contractor to complete the project which should have been completed in August 2007.
King along with Minister of Arts and Multiculturalism Winston "Gypsy" Peters, and ministry officials conducted tours of three projects of the Urban Development Corporation of TT (Udecott): NAPA at Todd Street, San Fernando, Chancery Lane Complex at Chancery Lane, San Fernando and Brian Lara Stadium in Tarouba.
At the Brian Lara Stadium, King told reporters they had been guaranteed by management that the cost will not exceed the $879 million plus VAT. This means that the stadium would come in at an estimated $1billion.
Speaking after being taken through the Chancery Lane Complex by project manager Ravi Lalla, King disclosed to reporters that a new contractor has to be found. "Obviously there are contractor problems, the contractor left the site, so we now have to find a new contractor or contractors in order to finish." King said she has not yet received a reason for the action. "I haven't found out why they left. I will have a meeting with officials."
She said the initial cost of the complex was $296 million and at this stage $440 million has been spent. "We are looking at another few hundred million more to finish it."
The projects have been saddled with cost overruns and other related problems and she was unable to say when the complex will be completed.
"The building is here and we have to finish it." She said the bidding process has to take place again and "we have to try and get the best contractor to complete it."
Peters suggested that the library space in the complex, which comes under his ministry, be given up for the use of an oncology centre because of its close proximity to the San Fernando General Hospital.
"I would give up this space in a heart beat . Instead of building an oncology centre we have this already, convert it into that."
The tour yesterday began at the NAPA at Todd Street. The building, he said, was an "impressive one", but was 75 percent complete and should be ready by January 2011. However, he expressed his concerns that it was one year behind, due to problems encountered with the removal of some sewer lines. He also said that NAPA was also facing fines for violating laws. The seating capacity of 810 persons in the main theatre and 110 in the smaller theatre came in for heavy criticism from Peters, who is also a performer calypsonian.
"Neither of them is worth the money, not this one or the one in Port-of-Spain is worth the money for the seating capacity. We could have built something that would house much more people.
Let us face it, if you have a show in Trinidad and Tobago, and you have 810 people there, you have a buss show. Nobody wants to keep a show with 810 people unless it is Mas Camp Pub or something. But not something like this. These things should be built for much more people than this," said Peters. He said while it was too late to redesign the building there was still enough time to correct the flaws which have been detected. Peters promised that the Naparima Bowl will stay despite the presence of NAPA.
"The Naparima Bowl is a historic site and the Naparima Bowl would stay, whatever we use it for it is going to be cultural but it would stay under my watch," he said.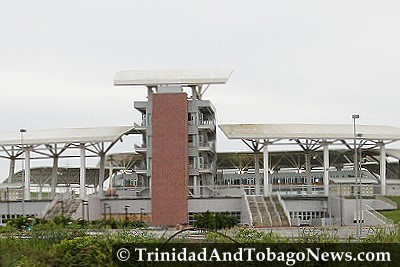 The group then moved on to the controversial Brian Lara Stadium where Peters said while the cricket pitch was "nice" the actual building was "an abuse of our money by the admission of the management on this place."
"We have to spend a lot of money on this place not only the exterior but the carpet that they have down right now. By the time we are ready to open this place all those things will be all messed up and there will be an additional cost to change it." He said $879 million is for a stadium that has not been finished.
King said while there have been cost overruns she was assured that it will not go over the $879 million plus VAT.
"It doesn't include what we understood was going to be involved in the complex, that there would also be an academy and a hotel and training grounds. It doesn't include the academy and the hotel. So from that point of view, if we want to complete it as a complex, then there will be a lot more money that will have to be spent. That is a decision the Government will have to take, given the information that we have today."
http://www.newsday.co.tt/news/0,123274.html
***
Govt probes $497 million loan
GOVERNMENT is investigating the non-payment of a $497 million loan taken out by the former PNM government with respect to the controversial Brian Lara Stadium in Tarouba. Also under investigation are several deals allegedly made by the former regime on the eve of the May 24 General Election.
Peters: $$ wasted on Sando's NAPA
Art and Multiculturalism Minister Winston Gypsy Peters said the previous Government wasted money to build the National Academy for the Performing Arts (NAPA) in San Fernando.
Govt to pay $55m in rent over 5 years
Four properties were rented by the Government before and after the general election for up to five years, at a total cost of some $55 million. This has prompted political and social activist Devant Maharaj, who made the discovery, to question the wisdom of signing such costly contracts in the midst of a general election.