Trinidad and Tobago News Blog
www.trinidadandtobagonews.com/blog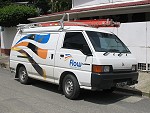 Please allow me a place to describe my complete dissatisfaction about the cable company Flow on removing the computer oriented channel G4 from the basic package.
It seems that Flow's marketing department is making wrong decisions and expecting us customers to pay extra for channels that we have grown accustomed to on the basic cable package.

I have even heard rumors that more channels will get sliced from the basic package. My concerns are that the educational channels like G4, Discovery, The Learning Channel, History and National Geographic should not be removed from the basic package.
The fact that Flow removed G4 shows that this company does not want to promote education and knowledge instead they want to deprive people and make them pay extra. As we all know G4 is the only computer oriented channel on cable and lots of people rely on it for vital information about computers; I myself being such a person.
I must say lots of people are calling Flow and expressing their dissatisfaction on this issue, and I am sure if Flow does not hear the calls of their customers, lots of them will disconnect cable and take Direct TV.
In my opinion this is a negative move by Flow and it shows that the company is not pushing the nation towards knowledge and advancement instead they are doing all in their power to destroy the learning process and knowledge shared by these channels.
krisram
Trinidad and Tobago News Blog's URL for this post:
www.trinidadandtobagonews.com/blog/?p=376