By Stephen Kangal
May 01, 2010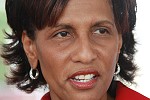 After the huff and puff of the ill-advised, arrogant and disrespectful steam-rolling of the Property Tax Bills at an undue frenetic pace through Parliament December last that caused discomfort even to HE The President, Finance Minister Karen Tesheira continues to bluff and attempt to hoodwink property owners.

She has a blind and excessive obsession with the reduction of the rate of tax from 7% to 3% as an expression of her puerile generousity although she knows that the actual tax will be sometimes 60 times greater than the previous 7% rate of tax. She deliberately confuses equality with equity.
The burgesses of San Fernando are being duped into believing that their property taxes (PT) will be halved. Errol Fabien has been recruited to conduct unconvincing TV commercials sitting on a map and demonstrating misleading gymnastics on location/type criteria for tax determination. His imputations that the PT is less than his cable and gas bills are dishonest because I can terminate my cable and reduce my gas bills. I cannot do that to the unilaterally imposed PT even though I get precious nothing in return.
Minister Tesheira is unable to complete all the time-consuming complexities and detailed valuation of properties necessary for delivering an accurate and lawful property tax bill by March 31st. She does not have the enormous qualified valuation staff. There are still 250,000 properties outside of the tax net. This is the only reason why the payment deadline has been extended to 31st December. But she can only deliver half of the bills this year for properties that are listed. Is this the equity that she boasted about ad infinitum?
The BIR cannot issue inaccurate estimated Fabien-style bills because this will collapse the system with thousands of appeals. Additionally once an assessment is mutually agreed it will be valid for five years and cannot be amended or increased.
There are serious errors in the Property Tax Act No.18 of 2009. I understand that the entire regime relating to deferral of tax has to be re-submitted to Parliament for amendments. Imagine having to amend an Act even before it was implemented. Such is the degree of ineptitude and arrogance that the Manning regime parades with pride.
The Property Tax Act may not be implemented this year. Consultant Mervyn Thompson is in conflict with the BIR. However both the Land and Building Tax Act and Section V of the Municipal Corporations have been foolishly repealed leaving us with no PT to pay this year. This is governance T&T -style.
The UNC had pledged to roll back the tax because collecting property taxes is a tedious, expensive and time-consuming activity when income and consumption taxes are far easier to administer and collect.
To date property owners have not received Schedule II from the BIR which is a return that has to be submitted by 1 April 2010 and upon which an accurate tax assessment may be computed.
Minister Tesheira opened a Pandora's Box the ramifications of which have seriously undermined her credibility. Yet she parades her incompetence with pea-cock strides although the law-making process of the property tax has collapsed much to her embarrassment.
Yet she is tackling the PSA on the TTRA. That has also collapsed. Everything is collapsing including the Manning Administration because of lies, lies and more lies.