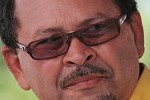 Judges in the house?
We have no problem with former judges deciding to join political parties, and to run as candidates for these parties. The difference is that a former judge is a citizen like the rest of us. We cannot yet refer to Judge Volney as a "former judge" in this debate. He was still on the Bench when he made his decision, and he clearly must have been in some sort of consultation with the UNC even as he enjoyed the status of a High Court Judge.

How long have these consultations been ongoing while Mr Volney was sitting as a Judge? Would he have resigned his tenure if he had not been guaranteed a candidacy within the UNC?
Prime Minister Manning's reaction to the resignation of Volney and Harripersad was also unacceptable. We simply do not believe, and we would need to see evidence produced, before we accept that either gentleman was a secret supporter of the UNC , and had therefore been prejudiced in any judgments or decisions. Indeed, Mr. Manning seemed to harbour no such qualms in 1996 when he plucked Justice Anthony Lucky from the Appeal court to offer him as a candidate for President of the Republic.
Even more worrying in this episode is Manning's declaration that "Security forces in this country have had an interest in the activities of Volney for some time". How many Judges of the High Court, other than Volney and former Chief Justice Sharma, have Manning's security forces been monitoring? And for what reasons? However, if Security was doing their job, they should have reported "some time" ago, that Volney was in discussion with the UNC.
Full Article : newsday.co.tt
***
Kamla: PNM did same
She said he was within his constitutional rights to have a political view. She said he only exercised his view after his resignation. 'I remember Justice Lucky was offered as a People's National Movement (PNM) candidate for president while he was a sitting judge. He did not resign and he went back, if I recall, to serve on the bench. But I am not saying because you did it, we are doing it. That's not my point. My point is it is within the constitutional right of the judge,' she said.
Legal purists recall Lucky and Lucky
Published: 30 Apr 2010
http://guardian.co.tt
Prime Minister Patrick Manning is dismissing it, but yesterday several legal observers recalled his nomination of Justice Anthony Lucky to serve as President of the republic. The legal purists did so in the context of Justice Herbert Volney's shock decision to retire from the judiciary and immediately seek nomination as a UNC general election candidate. Manning has said that Volney's move goes against the face of the separation of powers doctrine.
One senior counsel yesterday remembered that Manning had sought to have Lucky made Head of State at the time when the UNC, then in office, had nominated Arthur NR Robinson. Robinson was elected by the Electoral College, made up of all Members of Parliament and Senators. Lucky was then a sitting High Court judge. After he failed to become President, he returned to the bench. Legal figures also noted that Lucky's daughter, Gillian Lucky, moved from active politics to serving as a High Court judge. Lucky, a former MP for Pointe-a-Pierre, is close to the end of a six-month term as a judge.
***
Kamla must think carefully on Volney
Notwithstanding how the coalition leader attempts to sell it, there must be real concern when a sitting judge leaves the bench one day and the next day jumps right into the political arena, without even "washing his foot", as the good ole Trini saying goes.
Kamla: Volney did nothing wrong
UNC political leader Kamla Persad-Bissessar yesterday defended former High Court judge Herbert Volney's decisions to seek a candidacy in her party saying he had a constitutional right to have a political view.
Praise, criticism from legal minds
The decision by former High Court judge Herbert Volney to pursue a political career has received mixed reviews from members of the Judiciary. A senior counsel said Volney's action may create doubt about the independence of all judges. However, one sitting judge said there was no need for concern and insisted Volney's action had not affected the credibility of the Judiciary. "Volney's decision does not affect my independence as a judge, and I am sure that goes for my other brothers and sisters on the bench. I wish him the best. At least Volney had the decency to resign first. There were others like former Justice (Anthony) Lucky whose name was debated in Parliament for the post of President. It is amazing how people are selective in their condemnation and their praise."
Volney: PM A Tyrant
Volney: Hardest decision ever
At the centre of a political firestorm, former judge Herbert Volney said yesterday that leaving behind his career and life in the Judiciary was the hardest decision he has ever made.
Law Association: Jump too swift for comfort
Former judge gets UNC nod for St Joseph
Volney: God guided my decision
Former High Court judge Justice Herbert Volney said yesterday he believed Prime Minister Patrick Manning's statements that he (Volney) was being monitored by the security forces for some time were untrue.
The genesis of sustainable unity
…dismisses claims by PM of using office for UNC benefit
Ramraj Harripersad who retired as senior magistrate to offer himself as a United National Congress (UNC) general election candidate has dismissed the claims of Prime Minister Patrick Manning that he (Harripersad) had acted improperly in his political dealings.