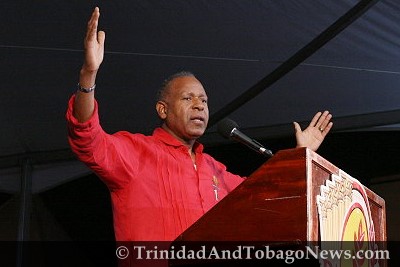 Pensioners get increase, but heavily taxed
Old age pensioners have received increases in their pensions this month, reportedly ranging in one instance from 13.5 per cent to as much as 35 per cent in some instances.

Pensioners unimpressed by increase in $$
Pensioners are saying they will not be bought with Prime Minister Patrick Manning's increase in Old Age Pensions–in the run-up to the May 24 election.
PM wines, dines artists
PRIME MINISTER Patrick Manning yesterday evening danced the night away to the tune of his band, Divine Echoes, as he hosted members of the art fraternity at a large reception at the Prime Minister's Residence and Diplomatic Centre, St Ann's which saw hundreds of patrons park on the historic President's Grounds.
Hart to face perjury charge
COP lawyers: He'll be returning Monday…
Former UDeCOTT chairman Calder Hart returns to Trinidad and Tobago from the US on Monday and is to be charged with perjury, Congress of the People (COP) lawyers, Timothy Hamel-Smith and Vernon De Lima, claimed yesterday.
A plot to gag Udecott affair
OFFICIALS from both the UNC and COP, at separate forums yesterday, alleged that former Udecott executive chairman Calder Hart is to return to Trinidad on Monday allegedly to be charged for perjury, with a resulting High Court order gagging anyone from discussing any and all issues regarding Udecott, in the run up to the May 24 General Election.
…Acting CoP: Probe still taking place
ACTING DEPUTY Police Commissioner Gilbert Reyes has denied reports that former chairman of the Urban Development Corporation of Trinidad and Tobago (UDeCOTT), Calder Hart, is expected to return to the country to face a charge of perjury on Monday.