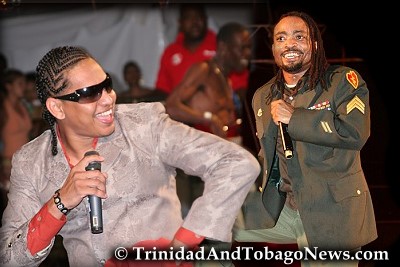 Derek 'Dawg E Slaughter' Pereira and Machel Montano
By Denyse Renne
trinidadexpress.com
Arrest warrants were being prepared yesterday for soca stars Machel Montano and Derek Perreira (Mr Slaughter), following a stabbing incident on Carnival Tuesday last year.
The warrants were being prepared by officers of the Woodbrook Police Station and charges of wounding with intent are expected to be laid against Montano and Perreira.

Both singers have been accused of stabbing San Fernando resident Joel White with a bottle on February 28, 2006, outside a nightclub on Cipriani Boulevard.
White, of Mon Repos, left for Singapore on Wednesday night where he boarded a flight to Malaysia. He is accompanying a group of Trinidadian dancers.
Efforts to contact Montano and his mother Liz were unsuccessful.
Montano is currently on $50,000 bail after being charged with a series of offences arising out of an April 26 incident at the Zen nightclub in Port of Spain.
Full Article : trinidadexpress.com
Warrants for popular artistes
By Camille Clarke
www.guardian.co.tt
Arrest warrants have been obtained by police for a popular soca artiste and a hip-hop American entertainer.
However, the warrants have not been executed on the entertainers, because they are out of the country.
Bail in the sum of $15,000 has been endorsed on each of the warrants. Police said the charges stemmed from a reported incident on Carnival Monday in 2006, when Joel Wendell White, 33, of San Fernando, reported that he had been attacked and beaten while walking on Gray Street in St Clair, Port-of-Spain.
Wendell also reported to police that he had been stabbed with a broken bottle.
Full Article : guardian.co.tt
Related:
Machel Montano Slapped with Five Charges
June 5, 2007
Machel Montano in Brawl at Zen Over Spilled Drink
April 26, 2007