By Sean Douglas
newsday.co.tt
Thursday, July 5 2007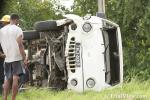 Government is considering outlawing the use of cellphones by motorists, a distraction which in the United States is said to cause 2,600 deaths and 330,000 injuries in road accidents each year.
The concerns were raised as the Senate yesterday debated the Breathalyser Bill, formally known as the Motor Vehicle and Road Traffic (Amendment) Bill 2006, passed by the House of Representatives in June after amendment by a Joint Select Committee (JSC).

"Dialing numbers, receiving calls and holding conversations are serious distractions," the government told the Senate, urging greater local research into the problem, first highlighted by Barataria/San Juan MP Dr Fuad Khan.
The need for the Breathalyser Bill is long-overdue because the road death rate has worsened from 162 people being killed in 2001 to 209 last year and 104 people for the first six months of this year, it was stated.
The use of cellphones while driving is prohibited in some countries including Australia, Brazil, China, France, Germany, India, Israel, and Japan plus several states in the United States.
The Bill sets the same limit of 0.08 percent blood-alcohol used in the US, UK, and Canada, while Australia and Scandinavia have even stricter limits.
The JSC has reinserted the ban on motorists driving under the influence of illicit drugs that exists in a parent Act but which had initially been ditched from the 2006 Bill.
However, countries have found it hard to prove cases where drugs may have harmed a motorist's driving.
Yesterday's Bill sets a $5,000 fine and six months imprisonment for first-time offenders and a $10,000 fine, 12 months imprisonment and a 12-month disqualification for a second conviction. The JSC however has also introduced a clause giving the Court a discretion in punishing second- time offenders.
So the statutory sentence only applies, "unless the court for special reasons thinks it fit to order otherwise."
Further, the Bill gives the court court a discretion to impose on a second- time offender, a disqualification longer than 12 months. But for a third-time offender, the court will have no discretion and the offender will face permanent disqualification from driving.
The system will operate when a suspect motorist first takes a rough roadside "breath test" and depending on the result might then go to a police station for a more precise "breath analysis" which gives a printout of results.
The Bill allows police to arrest a suspect who fails to provide a specimen of breath, without reasonable excuse, adding "he is guilty of an offence and shall be liable on conviction to a fine of $5,000 or to imprisonment for six months."
US motorists, it was revealed had many tricks to evade detection of their driving under the influence (DUI).
"People try every which way to beat these tests for example saying 'I'm a diabetic. My metabolism is different. I have a different blood-sugar level."
Some US motorists refuse to be tested and then try to win the case in court. A standard US trick was to delay being tested, rush home, start drinking a beer and to boldly declare this beer to the police officers who come to test you to try and cover up your drinking earlier that day.
The Bill has a section that says that anyone who wilfully does anything to interfere with their blood-alcohol level while they are about to be tested is guilty of an offence.
http://www.newsday.co.tt/news/0,59995.html