Trinidad and Tobago News Blog
www.trinidadandtobagonews.com/blog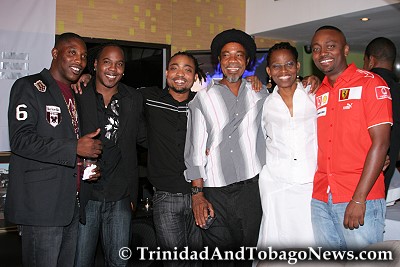 Left: Kernel Roberts, Zan, Machel, Machel's Father, Elizabeth and Marcus Montano
Bail has been granted for the sum of $50.000 to entertainer Machel Montano who was slapped with five charges arising out of a brawl at the Zen nightclub in Port of Spain on April 26, 2007.
Also charged and placed on bail were Kernal Roberts whose bail was fixed at $25.000, Joel "Zan" Fezeck $50,000, and Rodney "Benjai" Le Blanc $30,000.

The Soca four are expected to reappear in court on June 12th 2007. SC Dana Deetahal is representing Montano and she said her client was anxious to have the case started in July since he has travel engagements in August.
It is alleged that Montano and his entourage got into a brawl with several persons at the Zen club. The brawl continued outside the Zen night club and one of the patrons, Russell Pollonais of Princess Town, was beaten unconscious by Montano and his entourage.
_________________________________________________________
LETTER TO THE EDITOR
HI
My name is Janice Dick from England London. I'm emailing in regards to the above incident that took place on the Morning of 26/4/2007. I was one of the English ladies that came to Trinidad for my mother's wedding. The in-laws of the family decided to take me and the 2 other English ladies that I travelled with to have a night out in one of the top clubs in Trinidad which was Zen…
When we arrived at the club we were all having a nice time when Machel and his entourage entered the building and made themselves noticed. To be honest I didn't quite know who he was till one of my cousin in laws Melissa told me that was Machel Mantano and he sang a song I was familiar with. I think its called "one last wine", from that I knew who he was.
Anyway, we was still continuing to enjoy the evening which I even took a photo with Machel and ended up talking with one of his bodyguards by the name of Jason who later on gave me his telephone number.
I wasn't feeling too well so I started to sit on the steps as I hadn't been feeling good all evening. I then rose when I started to see a little crowd gathering together. As I stood up I saw Machel slap my step-brother Jerry in the face. At this point I never knew what had occurred. I then ran down to the middle bar to get my step-brother out of the mix up, by the time I reached the Zen bodyguards was already surrounding the people I was with. They then proceeded to push them out of the club. At this point all I wanted to do was ask Machel why he had slapped Jerry. I approached him and he told me that "he had spilled a drink on his companion." I then told him "that we apologised and there's was no need for this argument." He didn't really want to hear what I was saying and continued to swear and be offensive to me. He then stated that if I didn't move he would "go and get a gun and shoot me and then spray everyone outside." When he said this to me I was then very shocked and frightened as I didn't think a celebrity of his status would be behaving this way, especially when we were all enjoying ourselves moments before. It was then I realised how drunk he was. I then went outside and spoke to the owner of the club who was quite nice and he said that he didn't want to put us out but he wanted to calm the trouble. I then went to speak to the other 13 people I came with as I was the oldest. I kind of felt responsible for my new in laws even though I am not from Trinidad. As we were all calming down outside the club, Machel came out and went straight past me on the stairs and went straight into the crowd where my family was and began fighting again. I then ran down the stairs and pulled Jerry out as he is only 18 years and I assumed Machel and his crew were big men. I then pulled Jerry to one side and then shouted to my other companions from England to come with me as I knew all the other girls were trying to get everyone out and then went along side the street of Zen Nightclub with Jerry and Selina my sister and Sam my best friend who also travelled with me. I kept turning around and stopping as I wanted to make sure everyone was coming. I then saw Russell, one of the guys who I went with which is my cousin in laws boyfriend, he was waving to others to come down the road we was on. Within moments I saw mob crowd go towards Russell and surround him. Moments later one of Jerry's friends then came and told us that Russell was unconscious. I then ran up to see if I could help, to then find Russell in the back of the ambulance being taken to hospital.
The reason for emailing is that I think people over there have forgotten that there was English Victims in all this and as I cannot speak for others, I felt very let down by the soca star and the authority service over there and felt that my holiday was ruined as it just began. Due to this I had to spend the evening of the night after the incident in the hospital with my in laws and then the next day I spent the whole day [with] the Belmont police which was quite distressing as not only did I have to give a lengthy statement but also feared being snapped by the newspapers. After that we no longer went out in the evening to another club and also people would stop us and ask us if we were the English lot that got into a confrontation with Machel which wasn't nice because you didn't know if people would like us or hate us as I am sure he has loyal fans. I have now returned to England but still that night haunts all of us and brings back terrible memories. I hope this matter will be sorted out as soon as possible and I am willing to help in any way I can to assist in this matter.
Many thanks for hearing my side of the story even though I have shortened it as that night seemed to go on forever.
Janice Dick
_________________________________________________________
Zen fracas case pushed back
By Andre Bagoo : June 13 2007
Machel Montano will go on tour in August and the preliminary inquiry into the alleged Zen nightclub fracas on April 26 has been pushed back to September 12.
Also Read:
Machel and 3 get bail for Zen fracas
trinidadexpress.com
Machel Montano in Brawl at Zen Over Spilled Drink
Trinidad and Tobago News Blog's URL for this article:
www.trinidadandtobagonews.com/blog/?p=266