Trinidad and Tobago News Reporters
June 05, 2007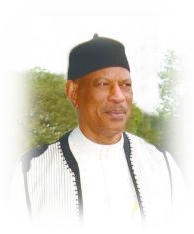 Jamaat al-Muslimeen leader Yasin Abu Bakr, speaking at a press conference, said his group had nothing to do with the so-called plot to bomb JFK International Airport in New York. Speaking with the Associated Press, Imam Bakr said he knows nothing about the alleged plot which has lead to the arrest of three Caribbean nationals, two from Guyana and one from Trinidad and Tobago.
It is alleged that the men were seeking support from the Jamaat al-Muslimeen here in Trinidad and Tobago. There are many references to the Jamaat in the complaint which has been issued by the US authorities. But the Imam said he has nothing to do with the matter and he knows not of what is being printed and published.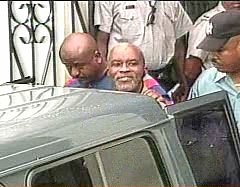 Kareem Ibrahim being taken from court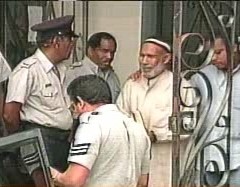 Abdul Kadir being taken from court
Two of the accused, Abdul Kadir and Kareem Ibrahim appeared in the Port of Spain court yesterday, charged with conspiring to commit a terrorist act against the United States. Another man, Russell Defreitas, was held last weekend in New York City. He has since appeared in a New York court. The search is now on for another man known as Abdel Nur.
Yesterday, Police Commissioner Trevor Paul said Abdel Nur remains at large and is considered armed and dangerous.
Also Read:
I'm plotting to blow up Sea-Tac Airport
By David Goldstein : June 04, 2007
Plot to Blow Up JFK? Why I am Skeptical
By Heru : June 04, 2007
JFK Four: Connecting Propaganda Dots
from Jamaat al-Muslimeen to Hugo Chávez?
By Kurt Nimmo : June 03, 2007
Columnist may face contempt charge
Saturday, June 16 2007
A columnist with a daily newspaper could face contempt of court charges. On Monday, Justice Mark Mohammed will decide if he will issue a summons for the columnist to appear in court to answer the allegation that he breached an order of the court.
The matter was raised with the judge in chambers on Thursday. Mohammed, presiding in the Port-of-Spain Third Criminal Court, asked both the prosecution and defence for assistance in the matter.