By Andre Bagoo
Friday, March 19 2010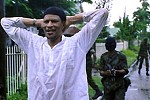 WORKS and Transport Minister Colm Imbert, who yesterday denied being interviewed by the Anti-Corruption Investigations Bureau (ACIB) in relation to Udecott, was in fact also interviewed by the ACIB in relation to an alleged land deal between Prime Minister Patrick Manning and Jamaat leader Yasin Abu Bakr which was disclosed in an affidavit sworn by Bakr in 2006.

The affidavit is at the centre of one of two ongoing probes by the ACIB. The other probe is in relation to former Udecott executive chairman Calder Hart.
Newsday yesterday reported exclusively that ACIB had interviewed Manning and Imbert and investigators are expected to also interview former Housing Minister Dr Keith Rowley and Local Government Minister Hazel Manning. Mrs Manning is mentioned in the Bakr affidavit in her capacity as the former Minister of Education.
Imbert was one of several former PNM Cabinet members who, in 2002, opposed Manning's decision to give the Jamaat land at Mucurapo, Port-of-Spain. Such Cabinet members included Rowley, former Trade and Industry Minister Ken Valley, former Planning Minister Camille Robinson-Regis and former Health Minister John Rahael who all attended a meeting at the old Prime Minister's residence at La Fantasie, St Ann's on September 14, 2002.
Full Article : newsday.co.tt
***
Flashback: A composite of Newsday reports on the Abu Bakr land deal on September 13, 15 and 27, 2002.