By Alexander Bruzual
March 16, 2010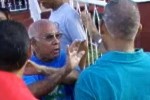 AN ANGRY pensioner yesterday [March 15, 2010] held on to the shoulders of Prime Minister Patrick Manning as he chased him off his property, after the Prime Minister entered the man's premises un-welcomed, during a walkabout of the St Joseph constituency.

The incident happened at about 5.30 pm when Manning, in the company of St Joseph MP Kennedy Swaratsingh, toured the constituency as part of the PNM's preparations for pending local government elections.
The pensioner – who refused to give his name – was visibly upset when Manning approached his premises at the corner of Real and Picton Streets, San Juan, an area of the St Joseph constituency.
As soon as the pensioner, who said he was 81 years old, saw Manning approach, he stood at the gates of his house and crossed his arms in an 'X', telling nearby media personnel that he was not in favour of the Prime Minister.
"I'm not in favour of the PNM and I'm not in favour of the Prime Minister and I am not supporting his actions. I don't want any part of this," the angry pensioner said, wearing a shirt with a Christian religious slogan on its front.
Full Article : newsday.co.tt
***
PM: Man who blocked me lives in Canada
Prime Minister Patrick Manning last night revealed that the 81-year-old pensioner from Real Street, San Juan, who attempted to deny him (the PM) entry onto his property, does not reside in Trinidad and Tobago.
PM: 81-year-old is Canadian
PRIME Minister Patrick Manning yesterday told the Lower House that the 81-year-old man who last week tried to eject him from his yard during a PNM walkabout of San Juan is a resident of Winnipeg, Canada.