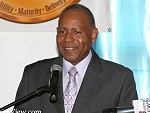 To dance or not to dance?
By Ariti Jankie, April 28th 2007
The idea of "dancing crime away" has been welcomed by dance tutors, but has drawn condemnation from some religious educators.
Manning has said that Government planned to use the dance and music option, not hip hop, to draw young people away from criminal activities and expose them to a more wholesome lifestyle.
PM dances crime away
By Richardson Dhalai, April 27 2007
Prime Minister Patrick Manning plans to use dance and music, but not hip hop, to help young people stay away from "unsavoury lifestyles."
Govt Brass band coming
By Ria Taitt Saturday, April 14 2007
Despite already having a functional, well established and highly-rated Youth National Orchestra, Government has decided to establish a large brass band comprising young musicians.
The advertisement states that applications must be submitted to the Permanent Secretary to the Prime Minister, Office of the Prime Minister, Whitehall, by April 17.
The advertisement stated that vacancies exist in the various sections, including saxophone, trumpet, trombone; rhythm and percussion sections, and for male and female vocalists.