By Stephen Kangal
January 03, 2010
www.trinidadandtobagonews.com/blog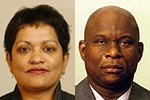 When will MP's and Senators begin to factor into their parliamentary stewardship and daily conduct that T&T is looking on and listening to them via Channels 4 and the Parliament Channel late in the night? Their late arrivals and at times their early premature departures from parliamentary sittings are telegraphing the wrong negative and disappointing signals to their respective constituencies.

During the debate on the property tax on Wednesday 30 in the Senate both Senators Annisette and Seetahal lost any credibility that they possessed. The former laid down some serious people-oriented concerns on the provisions of the Bill to the Government that he proclaimed had to be adhered to before this "Independent Senator" could support the Bill. He championed and claimed to speak for the suffering masses, the dispossessed and the fixed income pensioners. He was totally opposed to the Bill in its current manifestation. But when the Bill was put to the vote without a coma or full-stop being altered and none of his conditionalities being met, Senator Annisette cast an ever-ready "Yes" vote in favour of adoption. Is this politics with a morality of its own?
As for Senator Seetahal she brought to the attention of the Senate a range of drafting errors and incongruities that she said as an experienced legal draughtsman, would render the Property Tax Bill if passed in its present form a hazardous minefield for interpretation. It was horrendously bad law.
I shared her summation having read the bills more than thirty times. I felt that with her presence/expertise in the Chamber that the Bill could be referred to a Committee stage for the necessary repairs.
Imagine my shock when I saw Senator Seetahal leaving the Chamber before conclusion of the general debate after having arrived late for the sitting. She gave no thought to staying on to force a Committee of the Whole discussion when her excellent drafting changes could have been proposed. Was her premature and "pre-arranged?" departure intended to enhance the prospects for the unhindered passage of the bill I ask of this Senior Counsel having given previously a most brilliant, convincing and erudite critique of the Valuation of Land (Amendment) Bill 2009 the previous day?
Where is the credibility?
Congratulations to the Senate for conducting a most enlightening, well-researched and forensic analysis of the land and property tax bills that far outstripped, with some exceptions, the bacchanalia of other place.
Trinidad and Tobago News Blog's URL for this article:
www.trinidadandtobagonews.com/blog/?p=2199