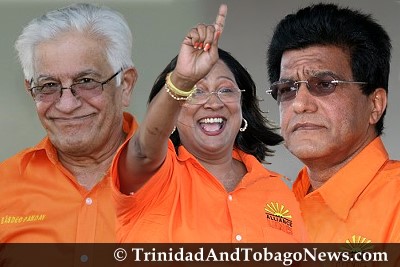 By Invera Arjoon
January 07, 2010 – newsday.co.tt
THE applications of 16,000 persons for membership to the United National Congress (UNC) will not be approved in time for the January 24 internal elections of the party, chairman of the party's Membership Committee Kelvin Ramnath said yesterday.

He added that the applicants' membership forms will be processed at a later date and if accepted they will be eligible to vote in subsequent elections. Ramnath, the Couva South MP, said the party did not expect so many applications and time simply would not have allowed for the review and processing of the applicants.
The list which is now being used for the elections, comprises 34,000 names processed from 2006 to November 29 (which was the party's National Assembly) and was made available to all constituency offices yesterday.
When asked late yesterday evening if all constituency offices had collected the list Ramnath said "a couple of them but they have all been informed to pick up their compact discs." The period for objections and corrections will be from January 7 to 10 and a final list would be completed on January 15, Ramnath said. However the change of dates would not have an effect on nomination day which remains January 11. Some members of the National Executive met yesterday at the party's Rienzi Complex Headquarters where Ramnath said the Membership Committee made the recommendation to the National Executive to stay the processing of the 16,000 membership applications and approve the old list.
At Rienzi Complex, political leader Basdeo Panday, Senate Minority Leader Wade Mark, Caroni East MP Tim Gopeesingh, Opposition Chief Whip Hamza Rafeeq, St Augustine MP Vasant Bharath and Oropouche West and Oropouche East MPs Mickela Panday and Roodal Moonilal were present.
Full Article : newsday.co.tt
Related News:
16,000 applicants can't vote in UNC internal elections
…Kamla shocked
The decision to reject some 16,000 applications for UNC membership is shocking and unprecedented, says Siparia MP Kamla Persad-Bissessar.
Ramesh: Lawful move by Executive
Ramesh 'willing to talk' to Panday
RAMESH Lawrence-Maharaj says he is willing to talk with United National Congress (UNC) political leader Basdeo Panday to save the party from those 'waiting to gobble it up'.
Gypsy wants Ramnath to resign
Member of Parliament for Mayaro Winston "Gypsy" Peters is calling on chairman of the United National Congress membership committee, Kelvin Ramnath, to resign.
Warner calls for talks on padding
Deputy political leader of the United National Congress (UNC), Jack Warner, is calling for an urgent meeting of the party's national executive to discuss alleged election irregularities.
Bas: Oudit should resign
Opposition Senator Lyndira Oudit should resign, says Opposition Leader Basdeo Panday.