By Sean Douglas
December 20 2009 – newsday.co.tt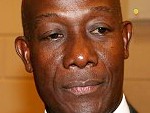 DIEGO Martin West MP Dr Keith Rowley believes that people from all walks of life are angry at the Government's property tax which they blame on squandermania. Rowley was speaking on Friday in the Lower House on two bills to bring the new tax, the Property Tax Bill 2009 and the Valuation of Land (Amendment) Bill 2009.

He said, "In my constituency there is anger, anxiety and resentment, at both ends of the spectrum."
Saying the property tax is obviously a revenue-raising measure, he said people are saying if the Government had better handled its largesse, there would have been no need for this tax.
"Stop taking your own advice that nobody is annoyed…," he advised the Government. He said they have brought the tax at the worst possible time, alluding to tough economic times. He repeatedly said that people were not against the idea of paying taxes but were upset that this measure could have been averted if the Government had acted differently previously, in its expenditure.
Rowley lamented that the Government in this bill had not taken the opportunity to begin a paradigm shift in how local government is treated. He lamented that the Tobago House of Assembly (THA) model – which holds local officials to a greater accountability to citizens – has not been adopted for local councils in Trinidad.
Saying the lifeblood of performance is money, Rowley said without such reform in Trinidad, the introduction of property tax would likely not bring improvements to local communities. Adding that the Government has not come clean over the property tax, he said the country would only have to wait until people's bills are paid in September to find out if it is in fact a serious revenue earner.
"I suspect the three percent will be on values considerably higher than being made out to be. You'll get good values for most properties," he said, forewarning of high tax bills.
Scoffing at claims that some people might pay less tax than they now pay, Rowley quipped, "Don't bother to tax me; Pass on the benefit."
Rejecting the Government's claim that the tax promoted equity between different people, he said there was no equity in North-West Regional Health Authority (NWRHA) CEO Agatha Carrington being sent on leave pending an audit, while Udecott executive director, Calder Hart, remains in office, despite revelations at the Uff Commission of Inquiry.
Rowley made the point that the property tax is being imposed for something that is not a revenue-earner for him, that is, his home. He said that through no act of their own, persons living on Diego Martin Main Road might have found the value of their house climb over the years to $1 million or $2 million, and now be liable to the property tax, despite never having any intention to sell it or rent it out.
"If you try to defend the indefensible, you'll create resentment and provoke people, and that is what we have at the moment."
Rowley said in areas of his constituency, such as Upper Cemetery Street, there are residents who must pay water rates despite the fact that no water flows in the water-pipes laid down four years ago. He said any hike in such water rates under the property tax would now amount to provocation.
Rejecting claims that the property tax won't cause hardship, he said, "I know a lot of people for whom $100 is a lot of money. A lot are struggling to make ends meet."
Alluding to talks this week between Acting Prime Minister Dr Lenny Saith and Jamaica Prime Minister Bruce Golding over Air Jamaica and Caribbean Airlines, he warned the Government not to fund Air Jamaica. He jibed that he would personally "mark" the dollar bills he was paying in property tax to ensure they were used for things such as hospitals and schools, not Air Jamaica.
http://www.newsday.co.tt/news/0,112858.html
ROWLEY ON THE ATTACK
"I want to tell my Government tonight that the tax I pay, I marking meh money. And it is to buy medicine for the hospital, chalk for the schools and to pay old age pension…"
As he registered his strong objection to the property tax on Friday night in the House of Representatives, in the Red House, Port of Spain, Diego Martin West MP Dr Keith Rowley demanded that the revenues collected from this tax be spent responsibly.