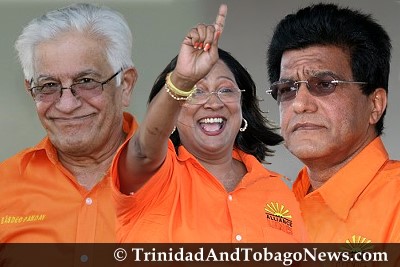 By Raffique Shah
December 20, 2009
trinidadandtobagonews.com/blog
As a Christmas gift to my colleague of many, many moons ago, I am backing Basdeo Panday for leadership of the UNC in the upcoming party elections. I have taken this decision, not after long and hard examination of the issues at stake, or any analysis of the future of UNC, but purely because Bas is a man. And this country of warped minds where people are whimsical in their outlooks, man must back man.

I know the first question people would ask, after recovering from shock, is if I am a member of the opposition party. I am not. I have never belonged to a political party since I parted ways with the ULF back in 1978. And I can proudly say I have never voted since the local government elections of 1977.
Although I was not enamoured of Bas even then, I backed the man to lead us in opposition because mankind had to back someone. So, too, did my many colleagues of that period-Weekes, Young, Nunez, Harrison, Lutchmedial, McLeod and many more. We all backed Bas, as he would confirm.
Ever since the split in the ULF, though, I became one of the man's fiercest critics. I shall not be surprised if he still considers me 'numero uno' on the hate list he carries in his front pocket. But that is of no consequence in this current scenario. I am backing him because I am blasted vex. Vex because suddenly all kinds of women-those who hate the UNC, most of them diehard PNMites or 'nowhereians' like me, are crawling out of their holes to support Kamla Persad-Bissessar.
What's their reasoning? She is a woman. Nothing more. 'Her time has come,' several of them are quoted as saying of their decision to support Kamla. 'What we need is (sic) more women in leadership positions,' another chimes. And this gem from yet another female leader: 'It's time a woman leads us into the next century!'
Didn't we just enter a new century? Will Kamla be around to lead us into 2121? I suppose since she is a Hindu-Christian-Baptist-Orisha, Jah will find a way to keep her alive and kicking well into her 200th year. Miracles do happen, I suppose if one has faith in myriad deities.
None among them has advanced a valid reason why Kamla should be leader of the UNC. Is she the brightest, most articulate, people-oriented person in the party? Can she withstand the morality test ex-president Robinson applied when he chose the PNM's Patrick Manning over Bas back in 2001? Has she proved to be someone who would stand strong, as Bas would say, on matters of principle?
Anyone with a modicum of common sense would answer with a resounding, 'No!' Did she not bow to Bas' every dictate? Is that a sign of strength? Yet they are backing her. And these are the same people who preach to us about 'new politics', about the failure of the 'old system' to deliver social and economic justice to all the people of this country. Look, ladies, give me a break. Little wonder you remain no more than the 'rib' of some man lurking behind you, victim of abuse that you cover up with mucho make-up.
And don't you dare brand me a male chauvinist pig! Throughout my life I have displayed the greatest respect for women-once they, in turn, show self-respect and respect for me. I have argued, though, that much of the abuse women have suffered has been self-inflicted. I mean this in the sense that while they portray themselves as gender-conscious and in control of their lives, even advising their 'sistas' to stand firm, they bow to abusive men in the privacy of their homes and sometimes in public places.
But back to the UNC internal elections: I don't know that it matters a fig who wins or who loses. I expect the party to fragment like a Mills 36 hand-grenade shortly after its internal elections. If my man Bas does not win, he will walk with his diehards and mash up yet another party. If Kamla fails in her bid to become the first woman to lead a party, she will be a footnote in history. And if Ramesh Maharaj's 50th bid to become leader of the main opposition fails, then 'senior' might as well take a permanent cruise around the world enjoy life.
For all the talk about the UNC being the most democratic party in the world, the aftermath of these elections may well prove this mantra prophetic.
It's democratic to the extent that every supporter will go his merry way bringing an end to a charade that's worse than the PNM's greatness and its immortality ('magnum est PNM et prevalabit'). Political analysts know that the PNM prevails only as a one-eyed king in the land of the blind.
Come what may, I am backing Bas. Here I ask that tireless campaigner for people's rights, Anand Ramlogan, to join with me. He admitted during the last elections that he has experience, having once backed Ramesh with severe consequences. Join me, Anand. Let us both back Bas. Or Ramesh again, if you feel like it.