By Stephen Kangal
December 13, 2009
www.trinidadandtobagonews.com/blog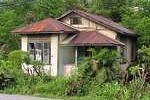 I am now convinced that the two draconian property tax bills No 23 and 24 of 2009 must receive the requisite constitutional majority before they can be legitimately passed in the House of Representatives on Friday 18 December without public input. These bills are clearly being introduced in clear defiance of the wishes of the majority of people of T&T. They also are geared to demonstrate sadistically who is the ultimate boss here in the face of rising and widespread dissent.

These bills when enacted into law will infringe the following fundamental human rights and principles of law:
the legal principle of equity, fairness and justice which must not be confused with or substituted by the concept of equality. Equity demands taking into account prevailing equitable criteria and relevant circumstances including the socio-economic ecology/wide disparities in living conditions in T&T in order not to cause undue hardships and/or injustice or an unreasonable decline in living standards/incomes of 200,000 fixed income pensioners;
the tenets of natural justice and the right to be heard especially when a relatively large part (3000% tax increases) of one's income/property (total estimated at $7bn) will be suddenly and quite unexpectedly taken away by a public authority for unclear revenue purposes that do not guarantee one any improvement or consideration for one's loss or the opportunity to say why one should not be so disadvantaged or dispossessed by a publicly acknowledged. wasteful, non-accountable and discredited regime;
the constitutional right not to be deprived of property except by the requisite due process of law-making that must take into account the above-mentioned fundamental concepts to add constitutional legitimacy to the statutes concerned and not to be vulnerable to be successfully challenged and declared inconsistent with the Constitution and accordingly null and void by judicial review procedures;
the fundamental constitutional right to privacy/security of the home/property details/person and not to have these rights infringed or likely to be abrogated except by the passing of legislation that receive not only the stipulated constitutional majority in Parliament but also identify within the Bills concerned the rights enshrined in the relevant Sections of the 1976 Constitution that will be violated and/or infringed;
due adherence to the concept of reasonable expectations that property- owners were made to harbour having regard to the deliberate negligence of the state in not introducing progressive property-tax legislation when advised to do so in 1969, 1978 and 1997, a range of financial incentives offered by the state to encourage increasing home-ownership across the nation and the prevailing socio-economic conditions/ recent fiscal measures that should have pre-empted any reasonable Government from imposing additional fiscal burdens and occasioning undue anguish, stress and trauma on an already pauperized/targeted middle and low income class of its citizens.
The defence rests.
Trinidad and Tobago News Blog's URL for this article:
www.trinidadandtobagonews.com/blog/?p=2052