By Raffique Shah
March 18, 2007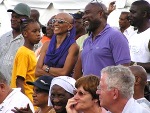 It happened one day, sometime in the mid-1970s, not long after I had emerged from prison for my role in the 1970 mutiny. Because of the political nature of my crime, I knew there were tens of thousands of mainly PNM diehards who were bitter, even hostile towards me. But I refused to be intimidated by them.
At age 28 or thereabouts, I strutted around the country with a proverbial "log" on my shoulder (no chip for me!), defiance etched on my face, and as sharp a tongue as one could find. In fact, I saw myself as being "badder than de baddest", ready to take on anyone, as many PNMites of that era would testify, having been on the receiving end of my barbs or colourful barrages.

As I walked on Frederick Street that day I heard someone say: "Raffique Shah!" I looked around and saw a not-imposing gentleman dressed in a shirt-jac suit. "George John," he introduced himself. I don't recall if we shook hands, but I do recall my hackles raised: I was ready to do verbal battle. George, after all, worked as the PR person for Prime Minister Dr Eric Williams and in the course of my many battles against the ruling party I would have fired some salvos at him.
We pulled aside and he said to me in a stern but not unfriendly voice: "Look, I may work for the Prime Minister, but I am no PNM stooge! I want you to understand that." His bravado, not to add his tone, disarmed me. I smiled. We ended up chatting there for longer than I had expected or, I imagine, he had anticipated. Of course I had known of George before that, when he was an active journalist, one of the finest columnists in the press (Owen Baptiste was another, and there was the irreverent Patrick Chookolingo).
From that day onwards George and I maintained a relationship that was based on mutual respect. We would talk at length on the occasions that we met, discussing serious issues, always overshadowed by a sense of humour we shared.
He would be out of the country for long spells as he practiced his profession across the Caribbean. Later, when he finally retired (but continued to write a column that eventually became occasional), we communicated by phone as we saw fit. I would call him to tap on his vast reserves of information on the politics of the Caribbean, and occasionally he would phone me to clarify some matter or to comment on what I wrote.
I learned to respect George, to see him not only as a journalist and writer from whom I learnt a lot, but also for his wit, his immense reservoir of information, and his criticisms. Mere months ago when I last spoke with him, I asked after his health, as I usually did. He almost dismissed my query and went on to speak of other, what he considered important, matters. And always, over the past five years or so, we enjoyed hearty laughter at the expense of today's politicians. He has passed on, but he has also left us patriots with a legacy of fearlessness, of fairness and so much more. We have to give thanks, those of us who knew him as more than a name.
Also making his exit last week was Mansa Musa (Rudolph Lord). The name may mean nothing except to political and cultural activists of St James, more so those from "The Village". Mansa was a soldier (same "batch" as Brigadier Carl Alfonso) who, like many privates, was way brighter than some of his superior officers. He was best known for his wide knowledge of Caribbean and African history, for instilling in soldiers and the youth of his "village" political consciousness and a sense of their cultural heritage. He was among the early Black activists in St James, well before the formation of NJAC. In fact, a group of which he was an integral part became one of the components that would later immerse themselves in NJAC.
In the army he irritated his seniors because he stood up for his rights and he proved in most instances to be more articulate than them. He was among the pre-1970 exodus from the Regiment so he was not directly involved in the mutiny. But by then he had helped awaken the consciousness as well as the consciences of many of his brother soldiers. In "The Village" he pioneered African drumming and later he and his Mansa Musa Drummers played with Andre Tanker in the ground-breaking Bim movie soundtrack that was among the early examples of the fusion of Indo and Afro music. He was gifted in more ways than he knew. His tragic final days belied the mettle of the man he once was.
John and Mansa, maybe they were opposites in outlook, maybe not. But both were men of substance whose contributions to the country cannot be measured except in their enrichment of our society, the inspiration they gave to those whose lives they touched. Farewell, dear friends.