The Golden Voice' Mighty Terror dies at 86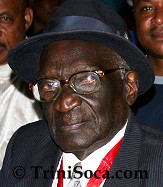 The Copyright Music Organisation of Trinidad and Tobago (COTT) was thrown into mourning yesterday afternoon, as news of the death of calypso composer, the Mighty Terror, swirled through the local music community.
Terror sings last note
Fitzgerald "The Mighty Terror" Henry died yesterday at a health care facility on Frederick Street, Curepe after a long battle with cancer.

Born in Anguilla Village, Arouca, Terror was crowned calypso king in 1966 when he performed the songs "Pan Jamboree" and "Last Year's Happiness".