Trinidad and Tobago News Blog
www.trinidadandtobagonews.com/blog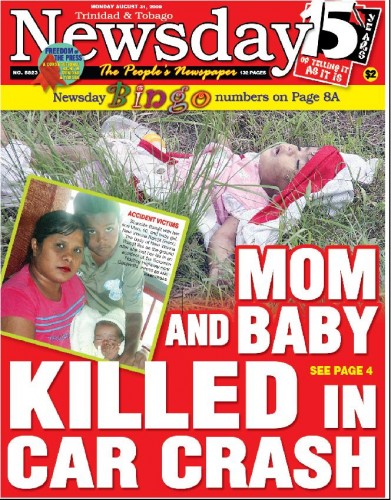 Was Trinidad and Tobago's Newsday irresponsible for publishing this photo on the front page of its newspaper on August 31, 2009?

This has been a raging discussion in Trinidad and Tobago on radio talk shows with many stating that Newsday was irresponsible. Yesterday on 96.1 fm's morning program, hosted by Tweez & Rachel Price, the two hosts chastised, Newsday for being irresponsible and insensitive for publishing the picture.
Today, Newsday has published an explanation:
Dead baby

Wednesday, September 2 2009
ON MONDAY, August 31,2009 our front page should have been covered in the national colours and we should have wished everyone the old clich "Happ[y] Independence".

Instead, we printed a photograph of a baby lying at the side of the Solomon Hochoy Highway in the grass. The infant was dead. The photo was meant to shock. And shock it did judging by the letters and telephone calls we received accusing us of insensitivity, lack of human decency, disgraceful and such like comments. Like readers we were pained to see this photograph of a one-year old beautiful doll-like child lying dead in a patch of grass. But we deliberately, and after much thought, published the photo in the hope, which we hope will not be in vain, to sensitise people about the escalating carnage on our roads. The figure to date is 139.
Full Article : newsday.co.tt
What are your views on this?
Trinidad and Tobago News Blog's URL for this article:
www.trinidadandtobagonews.com/blog/?p=1199