Trinidad and Tobago News Blog
www.trinidadandtobagonews.com/blog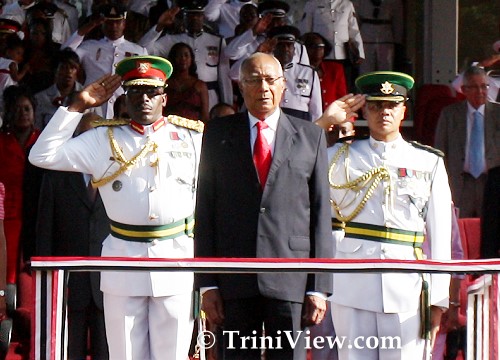 Independence Day Parade and National Awards Ceremony 2009

Too Much Human Tragedy
Several weeks after a policeman shot dead his common-law wife and then turned the gun on himself, President George Maxwell Richards has called for improved counselling for members of the Police Service to help them deal with personal and work-related problems.
Honoured for bravery
"I will do it again." These were the words of Diane Baptiste yesterday, after she received a national award for gallantry for fighting off a gunman in defence of her daughters.
Guptie picks up medal No 4
ENVIRONMENTALIST Narine 'Guptie' Lutchmedial created Independence Day history yesterday when for the fourth time he was bestowed a national award.
Jizelle's dad: Honour heroes before death
…wants businessmen to run Pan Trinbago
Panday: National Awards a farce
OPPOSITION Leader Basdeo Panday yesterday could not say whether or not he was invited to several Independence Day events, as members of the Opposition complained that they had not received invitations to the National Awards ceremony and Independence Day parade.
Warner upset Charch left out
Chaguanas West MP, Jack Warner, expressed disgust last night that Kamaluddin Mohammed's name was left out of the list of persons for this year's Independence Day awards
2009 National Award recipients
Smaller, shorter Independence parade
…Mixed reviews for new Independence parade route
Trinidad and Tobago News Blog's URL for this article:
www.trinidadandtobagonews.com/blog/?p=1557