By George Alleyne
August 19, 2009 – newsday.co.tt
www.trinidadandtobagonews.com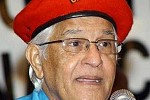 The scarcely concealed leadership battle in the United National Congress (UNC) between the Party's Political Leader, Basdeo Panday, and one of its Deputy Political Leaders, Jack Warner, as to which of them will command the UNC in the immediate days ahead is not uncommon to Caribbean politics.

Neither is it unusual in the United Kingdom, the home of the Westminster System on which Trinidad and Tobago and other English speaking Caribbean countries have patterned their Parliamentary systems. Nor for that matter the United States of America, Latin American and European countries. Indeed, the continuing insistence when this is perceived as necessary, by those who would direct the nation's public affairs is democratic, normal and healthy. This has been increasingly evident in the Caribbean since the region made the first tentative steps to across the board involvement in Legislative and Parliamentary politics.
Part of the reason for this impatience by those who wait in the wings, even though this may not apply to the UNC, is that too many of our Caribbean leaders have sought to hold on to power for far too long and, perhaps unwittingly, may be insensitive to changed situations. In Trinidad and Tobago, Dr Williams, the nation's first Prime Minister, remained at the helm of the ruling People's National Movement (PNM) from its launch on January 24, 1956 until his death on March 29, 1981. Jamaica's Norman Manley, headed the People's National Party from 1938 to February of 1962; Antigua's VC Bird, former head of the Antigua Labour Party (ALP), from 1946 to the 1980s and Tubal Uriah Butler controlled the British Empire Workers and Citizens Home Rule Party for all of 41 years until he passed away in 1977.
Sometimes the leadership styles of some of the Caribbean politicians and their reluctance to listen to the voices of change have led, in the past, to some of their parties being ousted from office by Young Turks, who left to form yet other parties. Two prominent examples have been those of Grantley Adams (Barbados) and Vere Bird (Antigua) whose respective parties were displaced at the polls by political groups formed by disillusioned members — Errol Barrow's Democratic Labour Party, which replaced the BLP in 1961 and George Walter's Progressive Labour Movement winning from the ALP in February of 1971.
While Basdeo Panday's UNC which grew out of the 1988 breakaway from the then ruling National Alliance for Reconstruction — Club 88 — is nowhere as old as the parties mentioned earlier, nonetheless, there have been clamourings for change at the top for several years, growing more strident following on three successive losses in the General Elections, the first of which saw the UNC being removed from power after a brief stint in Government. Jack Warner and those who support him appear to believe that should he become Political Leader, the UNC may unseat the incumbent PNM. And they may very well be right. The PNM itself, is another part of the Caribbean's culture of leadership longevity.
Should Warner access the leadership position in the United National Congress, he would be the first person of African descent to head a political party in Trinidad and Tobago, whose membership base comprises persons, who are mainly of Indian or Asiatic descent. However, what appears not to be generally known is that Dr Rudranath Capildeo shortly after he succeeded the charismatic Bhadase Sagan Maraj as leader of the Democratic Labour Party (DLP) had expressed an interest in joining the People's National Movement. His terms were clear: Dr Williams would have to relinquish office and with this, he, Dr Capildeo would have to become Prime Minister.
Dr Winston Mahabir, former Minister of Health in the first PNM Administration, and to whom Dr Capildeo had, reportedly, communicated his wishes, tells the story in his book, In and Out of Politics, first published in 1978. Had everything worked out as Dr Capildeo desired, he would have been the first and only Political Leader of the PNM of Indian descent and the first Indian descent Trinidad and Tobago Prime Minister.
Allow me to quote from Dr Mahabir's In and Out of Politics: "After Bhadase handed him the leadership of the DLP, Rudranath's ambitions seemed to grow exponentially. He would be Prime Minister at any cost. Nothing less would do. This is not hearsay, but it is precisely what he told my wife and me at our home while I was still a Minister in the PNM Government. He would join the PNM, on one condition — Williams must step down….He became obsessed with the idea of power."
I will return to the subject of leadership change and reluctance to it in this column at a later date.
http://www.newsday.co.tt/commentary/0,105767.html
Original Trinidad and Tobago News Blog URL:
www.trinidadandtobagonews.com/blog/?p=1393