By Stephen Kangal
April 26, 2020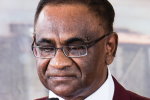 A third Road Multi-Sectoral and micro and macro conceptualised Map is now being engineered and brainstormed by the PNM Government. Both the previous 2020 and 2030 Vision Road Maps were shelved because the PNM is politically notorious for conceptualization plans but total failures when it comes to critical implementation commitments.

The current nature and the nurture/spread of the COVID-19 enemy is catastrophic enough. Added to that biological debacle is the collapse of the energy sector that is the second unknown factor challenging our best minds in this contingency planning scenario.
How can you conceptualise, brainstorm and plan with reasonable accuracy for the social and economic re-engineering of a post COVID T&T society in this period of extreme volatility and unpredictability relating to the unprecedented current and future health and welfare of the population and the declining economic and financial state (GDP) of T&T?
This is a PNM ploy to talk and introduce the narrative of recovery in a small time frame of one month (end of May) to increase political expectations when galloping uncertainty is the name of the game. Additionally T&T cannot plot a recovery path all by itself in imaginary, deceptive and splendid isolation from the gyrations and meltdown of the global interdependent imperative.
When the shut down is progressively relaxed and the second wave begins to inundate the health infrastructure to breaking point we must prioritize for this eventuality given the high public nature of our modus vivendi.
Short and medium-term survival must be the mantra driving all our current planning scenarios. This talk of creating "a new economy and new society" is wishful deception at worst.
There is need to brainstorm urgent food production, health infrastructure readiness, on- line education strategies, psycho-social assistance for coping by the aging population while maintaining medium term social distancing/face masking as the heart of the contingency response to the pandemic.
The contemporary world that is now one large 'village' state will act in concert. T&T must make some prognosis of what the world is likely to become with COVID-19 unless an urgent effective vaccine is discovered to stem the tide of this pandemic and we develop antibodies post-infection that is now in doubt.
Trying to forge a post-COVID-19 road map independently of the rest of the world for a T&T economy that is world-linked in the energy sector is an exercise in political brinkmanship geared to dovetail into the GE 2020 after which all will be forgotten.
This is an exercise in futility by bureaucrats who have not established a track record in futuristic thanking whilst they were in governance and in academia.