By Raffique Shah
April 27, 2020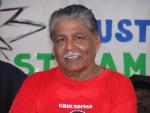 My younger brother Farouk caught me unawares one evening last week when he telephoned me saying, "The PM used the 'F' word today!" "What?" I asked in shock, thinking that either Prime Minister Keith Rowley or Farouk was going off. "He did!" Farouk persisted. "He spoke about food." The joke was on me, and we enjoyed a hearty laugh at my expense.

Seriously, though, Farouk is a professional agriculturist and farmer who has spent all his life in agriculture and related activities, first as a young graduate of the Eastern Caribbean Institute of Agriculture and Forestry (ECIAF) in the employ of Caroni Ltd, and later in a wide spectrum of food production and processing, from pioneering work at government's first hatching eggs facility to his own integrated farm. Currently in semi-retirement, he and members of his family are tilling the soil in Todd's Road.
Farmers like him, or more accurately farming families like his, are fewer now than they were twenty years ago, and miniscule today by comparison with fifty years ago. It is not easy growing food and expecting to live fairly well off the produce. Entire communities of farmers I knew when I was organising them, from north along the East-West corridor, Barataria to Waller Field, through most of Central and South Trinidad, have all but disappeared. Farouk is among the few who spent his life on the land, in a manner of speaking, educated his children, and has two of five of them, university graduates all, wedded to food production.
So he was elated when the PM, addressing the media after the first meeting of the post-COVID-19 Recovery Committee, mentioned food production as a priority item on the agenda. But he will undoubtedly harbour reservations over the attention that will be paid to the topic in spite of the grim portents globally over food in the aftermath of the pandemic. On many occasions in the past, governments and parties seeking support in general elections have highlighted focus on agriculture and associated activities as priorities, only to disregard it when surges in oil and natural gas prices delivered big bucks.
It has been the fool-and-his-money theme of our time: have oil dollars, will buy foreign foods…until COVID-19 changed that equation, probably forever. Because even as the global lockdown is being relaxed in certain countries, the 'F' word is creeping into whispered conversations—shortages, crisis, starvation, even famine…
So I thought I'd pen a short memo to the Recovery Team, offering my two-cents suggestions on how best we can harness our resources and use them to our advantage. First, whatever you do, do not mention the words "food" and "shortages' or "crisis" in the same sentence. The natives will go on a rampage, cleaning out supermarkets' shelves, stripping farmers' fields of produce, and otherwise engaging in orgies of theft and banditry. Government should seek to secure supplies of basic foods, if need be through government-to-government arrangements, from traditional and non-traditional sources.
Immediately set up a land-use body that will short-circuit the snail-like Commissioner of State Lands department. This agency, which will work alongside a strong cadre of agricultural extension officers, will move to rapidly rent all ex-Caroni and other State lands that are lying idle, and which are suitable for agriculture, to persons willing to cultivate such lands.
Ideally, the agency and rhe Ministry of Agriculture might want to zone these lands with respect to the crops that we require. But in this scenario where we are looking for food post-haste, and since some crops will take between nine and eighteen months from planting to harvesting, let us just go, go, go! We can never over-produce in this situation where people claim to be starving. Eat what we grow—or continue to starve.
Regularisation of tenure will come later: only those who show they are serious about farming will be favoured. And allow for one or two temporary sleeping structures per holding to combat praedial larceny that is currently gaining momentum in farming districts.
Focus on crops that will provide carbohydrates to substitute for wheat flour and rice, the two biggest staples in our diets. Cassava, yams, dasheen, eddoes, sweet potatoes and plantains will be preferable. These crops take between nine and eighteen months to be ready for harvesting. According to the Ministry of Agriculture's Food Production Action Plan (2012-2015), we can ramp up production of cassava to 18,000 tonnes in short order, sweet potatoes (13,000), dasheen (1,800) and eddoes (1,000). In fact, because this exercise will be fast-tracked, we can expect much more than the above.
In so far as vegetables go, pumpkin, dasheen bush, ochro, tomato, hot pepper, cucumber, sweet corn, sweet pepper, pakchoi and melongene have been identified as favoured by consumers. With respect to legumes and pulses, black-eye peas, pigeon peas, string beans, bodi and seim are popular. Larger acreages of land than were envisaged in the 2012-2015 plan can be allocated for all crops mentioned here.
With respect to fruits, we have an abundance that often go to waste, especially mangoes when in season. We need to work on harvesting all that will be available from this year on, and structure and expand on them over the neyt few years. Besides a wide assortment of mangoes, we have citrus, pineapple, sucrier banana, pommecythere, pawpaw, watermelon, plantain, avocado, sapodilla, caimite, guava, pommerac and more.
For protein, besides poultry that we "assemble" locally, more than 50 million chickens per year, sheep (mutton) and goats are best suited to our conditions and to meet the tastes of local consumers. There is also a niche market for goats' milk. And outside of open-sea fishing that has little potential for growth above the estimated 15,000 tonnes per year, there is scope for tilapia farming.
Space does not allow me to address the critical resource that is water. Farmers hardly need expensive, fully potable water for their crops and livestock. But they must have water, from harvesting and storing rain water, or from retention dams that can be built along watercourses that flood them out in the rainy season.
Members of the Recovery Team, we are in an emergency mode in so far as food is concerned. You need to act like yesterday. Failure on Government's part to act immediately could be fatal. Hungry people are angry people.