By Raffique Shah
April 21, 2020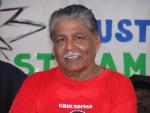 When a nation wages war, and when that war is just, it is the duty of every able-bodied citizen to support his or her country, each according to his ability. In the current situation, the entire world is at war against the invisible CORVID-19 virus that is wreaking death and destruction in an unprecedented global attack. In most countries, people have rallied behind their governments, battling in the frontlines and from their homes, executing simple strategies that are formulated to deny the killer-virus a fertile environment in which it thrives, hence containing it and starving it to death.

The tactics that have been devised by scientists and medical professionals to enable every person to be a soldier in the war are unbelievably simple. In fact, because they are such, some of my comrades from way-back-when (we attended the military college Sandhurst together) sent me a bit of wry British humour that is being circulated on the Internet. It depicts our generation addressing the so-called millennials as follows: Your grandparents fought world wars. You are being asked to wash your hands and lie on a couch all day. DO NOT F#@! THIS UP!
Sadly, many of them, admittedly not restricted to today's generations, are messing up the simple missions they have been assigned: stay at home, wash your hands, stay alive. The fools, young and old, who always wanted easy lives, meaning lying on beds or couches, doing nothing except watching television, and being paid to so do, are breaking the basic rules. In the process, they endanger their own, miserable lives, and those of the wider community. When they are stricken with COVID-19 and they writhe in agony, they will cry like babies for Mama and Papa to help them. By then it might be too late for them, and for other innocent persons whom they will have infected.
These sorry excuses for manhood seem to be too stupid to understand that by breaking the quarantine and social distancing regulations, they are compromising the hard-earned record this small country has established. The low infection and death rates did not happen by chance or luck. Even before the virus made its first strike-a resident who had returned here from Switzerland, we were told-Health Minister Terrence Deyalsingh was hammering into the populace the basic hygiene we should practice to minimise its impact.
The sensible among us, who, thankfully, form the vast majority of the population, realised that this virus was life-threatening and highly contagious. They took a conscious decision to make what sacrifices were required of them to confront COVID-19 and flog it to death.
Early o'clock, too, Prime Minister Dr Keith Rowley decided to lead the charge from the front. In crises like this pandemic, people in leadership positions are put to the test in the most severe way. There are no precedents to guide them, the last such event having taken place 100 years ago in different circumstances. This pandemic is bigger than any world war we have witnessed. The invisible enemy is bombing 100-plus countries simultaneously.
Besides the medical casualties it has inflicted, it has also crippled the economies of nations. Our economy has not grown for almost a decade, and production of commodities we depend upon, oil and gas, has declined. So the PM, in assuming command of the troops, knew the odds were stacked against him. But he had little choice. He could have abdicated, of course, or adopted the lunatic stance that Donald Trump has done, tearing apart his own country in the heat of a war that he does not appear to be winning.
Dr Rowley has taken command of his forces, ably assisted by the capable Minister Deyalsingh and Chief Medical Officer Dr Roshan Parasram, with a number of field commanders deployed from the frontlines to the rear echelons and supply lines. The virus has been kept in check, this in spite of fifth columnists who seem hell-bent on sabotaging their own forces.
Let's face it: the prime advantage we have is to have contained the virus by closing our borders and properly managing the few ships and aircraft that are allowed to enter, priority being given to vital supplies-food, medicines and medical equipment. Some fellow-citizens who ignored the PM's plea to avoid all foreign travel except for what was unavoidable, have been crying foul after they were stranded in several foreign countries.
They are aware that the sole such group that we accommodated, nationals who had gone on a Caribbean cruise, caused us severe pain when most of them tested positive for the virus. Why must we take other such risks and compromise the safety of the nation? The interests of the many must come before those of a few.
Anyway, such machinations aside, Dr Rowley has risen to the occasion. He has displayed leadership qualities we had not seen in him before the crisis. These include making tough decisions in the national interest-imposing the quarantine orders, shutting down the country when initial instructions failed to achieve the desired results, and extending the social safety-net to cushion the blows poor people suffered.
He did lose his cool on occasion, especially when Opposition Leader Kamla Persad-Bissessar and her colleagues made outlandish remarks. But that is par for the political course, more so in an election year (which COVID-19 has forced us to forget or ignore). I didn't follow his spat with the Express, but he cannot convince me that this newspaper is promoting racial strife. And I saw his anger when he spoke about people who ignore the voluntary quarantine order, thereby endangering the entire country.
Overall, though, he has performed well as the leader of the nation. This is not just my assessment. I have heard people who are non-partisan, and many who oppose Rowley and the PNM, express similar sentiments. And I have never been afraid to express my views and assessments, damn the consequences.