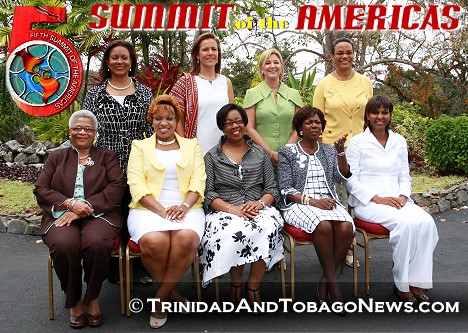 The Fifth Summit of the Americas in pictures
What a Summit!
PRIME Minister Patrick Manning has succeeded, perhaps beyond his wildest dreams, in his goals of giving regional leaders a safe and amiable forum to talk, and in showcasing Trinidad and Tobago on the world stage.

PM: Economic crisis not dealt with properly
Haiti, one we can't be proud of
Canadian media blast 'overzealous' security
As Jamaica recovers from reports in the Canadian media about the vulnerability of one of its airports to breaches in security, following the recent hijacking of a Canadian airplane, Canadian reports have emerged about clashes between officials from Canadian Prime Minister Stephen Harper's entourage and local security officers during the Fifth Summit of the Americas in Port-of- Spain.
Chavez's gift book climbs to best-seller status
The big winner out of this week's Summit of the Americas in Trinidad may be a decades-old book about the exploitation of Latin American people throughout history. Eduardo Galeano's history book enjoyed a 466,378-per cent increase in popularity on Amazon.com.
Obama to tackle deportees
CARICOM Secretary General Edwin Carrington yesterday disclosed that US President Barack Obama has promised his government will look at how criminal deportees from the US are affecting the levels of crime in the Caribbean.
Summit questions for Govt in House Friday
The Opposition will call on the Manning administration in Parliament, on Friday, to list all who obtained government contracts to handle work for the Summit of the Americas, Opposition Leader Basdeo Panday says. Parliament was adjourned two weeks ago to facilitate the summit activity.
What did TT get for spending $1.5B?
THEY may be divided on issues of party politics, but both UNC political leader Basdeo Panday and his one-time Chief Whip, Tabaquite MP Ramesh Lawrence Maharaj, were united in their criticism of the recently concluded Fifth Summit of the Americas with both men describing the Summit as a billion dollar "talk shop".
Browne denies summit cost $1 billion
DOMA: Stage Commonwealth Heads of Government Meeting in Tobago
PRESIDENT of the Downtown Owners and Merchants Association (DOMA) Gregory Aboud yesterday suggested Government host the November Commonwealth Heads of Government meeting (CHOGM) in Tobago.
President Obama meets 'Michael Jordan of cricket'
Prince Lara meets President Obama
The "Prince of Port-of-Spain" Brian Lara gave United States President Barack Obama a free batting lesson at the newly re-named Obama Terrace, Hilton Trinidad, St Ann's, on Sunday.
Summit sticking point
Only one paragraph on financial crisis
It was a success
"MORE agreement than disagreement," was how chairman of the recently concluded Private Sector Forum, Angela Lee Loy, described the staging of the Fifth Summit of the Americas, despite failure by Heads of State to fully sign the Declaration of Port-of-Spain.
Boycott MacFarlane's Carnival band next year
Calling on Indo-Trinidadians to boycott bandleader Brian MacFarlane's Carnival production next year, the Indo-Trinbago Equality Council (ITEC) said yesterday that the masman had failed to include Indian cultural items in the cultural programme of the Fifth Summit of the Americas.
Social activist freed
ENVIRONMENTALIST Michael Parris was yesterday freed by a magistrate on a charge of erecting placards on a TTEC pole protesting the Fifth Summit of the Americas. Harris, 24, of Temple Street, Couva, who is a social activist, was arrested and charged on Thursday night by police officers of the Gran Couva Police Station.
Trinis ahoy! Summit ships sail off with nearly 3,000
Summit done, back to work
VARIOUS labour movements are hoping Government would place greater emphasis on people, now that the Fifth Summit of the Americas is over.