By Nalini Seelal
April 19, 2018 – newsday.co.tt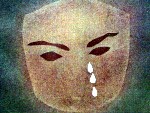 A 15-YEAR-OLD form three Presentation College student, in a fit of rage, yesterday chopped off his mother's right hand and then chopped her several times on the back of the neck after an argument at their Waterloo home. The teen, who was in his school uniform, with blood splattered over his shirt, was found in a daze at the nearby Waterloo Cremation site. While being escorted to a police van, he began weeping and told police he was sorry.

He said, "I did it because my mother took away my cellphone the night before and I found it was unfair." The boy was taken to the Brasso Police station, which has a detention centre for juveniles.
The boy was at his Butler Village, Carapichaima home with his mother who is a nurse, early yesterday when they argued over her decision to take away his cellphone. The teen took a cutlass and chopped off her right hand at the wrist. He then chopped her several times on the back of the neck. As he left the house, his father met him and asked why he was not at school and why his clothes were soiled. The boy did not respond but rode off on his bicycle.