By Raffique Shah
April 18, 2018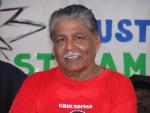 Understandably, the nation celebrated the two gold and one silver medals Trinidad & Tobago won at the Commonwealth Games staged in The Gold Coast, Australia, over the past two weeks. With "bad news" dominating the headlines daily, from crime to corruption, political wrangling and bungling to institutional paralyses, only the sourpuss among us would dismiss achievements in sports as being irrelevant to national pride.

Watching three young women face the starter in a field of eight in the final of the 100-metre sprint stirred my soul: seeing Michelle Lee Ahye race away to a convincing victory was exhilarating. I missed out on Dylan Carter's earlier silver medal performance in the swimming pool. But I willed Jareem Richards to run the race of his life to beat the field in the men's 200-metre final, since I was aware that England's Zharmel Hughes had the leading times in both dashes going into the Games.
Disappointments in the relays were not unexpected: relays are the only team events on the track in which athletes who engage in fierce competition through several rounds must subsume their instinctive rivalries and cooperate in pursuit of national glory. A bad baton change, a lapse in concentration or self-confidence can cost the best team in the race a medal. Such has been the fate of others before our two teams that failed in Australia.
Other than these performances, there were outside chances that a few competitors might have made the podium. Cleopatra Borel knew that at age 39, she still stood a chance in the Games, with the Europeans and Americans out of contention. Our men's 100, 200 and 400-metres stars were not exactly in good form prior to going to Australia, but at those distances anything can happen that could propel a few among them to the finals, and possibly the podium.
We had no such luck. The red, white and black-clad athletes were conspicuous by their absence from the events, which left the likes of Sparkle McKnight in the 400-metres hurdles and Ayanna Alexander in the triple jump to register our presence at the Carrara Stadium.
As an avid athletics fan, while I basked in the brief moments of glory, even boasting of our talented athletes to two of my Sandhurst mates who have settled Down Under, I wondered what the hell was happening in the T&T camp. After all, the local Olympic Committee selected and sent to the Games 25 track and field athletes out of a total of 51 competitors. The team was accompanied by a whopping 23 officials, among them a seven-member medical squad, a phalanx of 10 coaches, five managers, an administrative assistant, and, wait for it—a mechanic!
Among the prominent athletes who were there but failed to register their presence (through competing) were Keston Bledman, Emmanuel Callender, Marc Burns, Machel Cedenio, Lalonde Gordon and Deon Lendore. Others who participated but might as well have been invisible were two badminton players, four beach volley-ballers, four cyclists (well, we did see them in action), one gymnast complete with coach, five shooters, three squash and four table tennis players, and one triathlete.
Now, before you gripe about my gripe over the TTOC sending 74 officials and athletes all the way to Australia, whose airfare alone must have cost the TTOC (hence Government, ultimately taxpayers) approximately US $150,000 (TT $1 million), understand where I am coming from. The hosts will have provided accommodations and meals gratis, but more than likely the TTOC will have added a per diem of around US $100 per person—another US $75,000 or thereabout for the 10 days the team spent in The Gold Coast.
Without factoring in other sums expended—subventions to the sporting associations, costs associated with the elite athletes' programme, etc, the overall cost of those two gold medals and one silver that our three athletes won was ten, maybe twenty, times the price of the precious metal on the world market!
By the time the Games ended, Jamaica, who will have spent considerably less, and who endured a lean time in the sprints but compensated by great performances in other distances (gold in the women's 3,000-metres steeplechase!), stood at 11th position with seven gold among a total of 27 medals, while T&T managed 18th position with our three. Hell, even Grenada (Victor 1st in the decathlon), Bermuda, Guyana, the British Virgin Islands and St Lucia won one gold medal each.
T&T's profligacy in pursuit of sporting glory, which has consistently failed to deliver "bang for our bucks" as the IMF noted in another context recently, is not new. While I agree that Government must allocate money to develop our sporting talents, partly to channel the energy and talents of our youths in healthy activities and to bring glory to the country, it must do so wisely.
And we in the media must be watchdogs of the public interest wherever there appears to be wanton wastage of public funds. Upon conclusion of the Easter weekend's Carifta Games in the Bahamas, newspaper headlines screamed: T&T 3rd!
We indeed placed 3rd, but the medals-count told another, sorrier story. Jamaica was first with a massive 82 medals, 44 of them gold. Hosts Bahamas followed with six gold out of 27. T&T was third, winning 17, four of them gold. Incidentally, our contingent at Carifta comprised 42 athletes and 18 officials.
So while I'm happy when our athletes win medals, I ask myself: gold at what price?