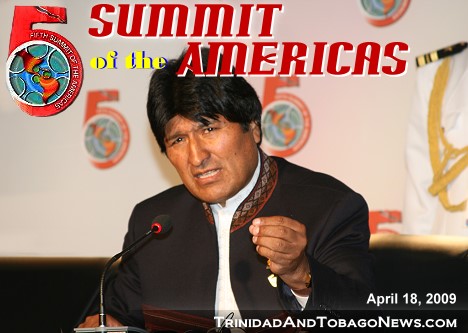 The Fifth Summit of the Americas in pictures
Drummit 2 Summit at the St James Amphitheater in pictures
Photos were taken after the rally was allowed to continue
Obama must denounce plot
BOLIVIA'S PRESIDENT Evo Morales yesterday charged that Americans were behind a plot to assassinate him.
Tensions run high at St James protest
Officers of the Guard and Emergency Branch (GEB) squared off with a coalition group over a drum protest at the St James Ampitheatre.

Approval for demonstration withdrawn
A peaceful musical demonstration quickly turned into a face-off with the police after the right to use the facilities was withdrawn half an hour after it began.
Riot police confront activists in St James
Standoff with cops boosts protest
Police 'zone' flag-bearing protesters at roundabout
Police encircled the roundabout bearing the landmark statue of Capt A A Cipriani on Independence Square, Port-of-Spain, yesterday, forcing a group of placard and flag-bearing protesters on to the eastern side of the square.
Roget: We aren't fooled and we won't forget
Ancil Roget, president general of Oilfield Workers' Trade Union (OWTU), says people will not forget that the Government denied trade unions and workers of their constitutional right to stage a peaceful march.
Paula Gopee-Scoon: Proud support for Cuba
Chavez: Venezuela not US's backyard
THE United States "must breakaway from the concept of viewing us as its backyard," Venezuelan President Hugo Chavez said yesterday.
Chavez: Hold 6th Summit in Cuba
Venezuelan President Hugo Chavez wants the Sixth Summit of the Americas to be held in Cuba. He also repeated his exhortation made on Friday to US President Barack Obama to "let's be friends."
Manning to recognise Cuba as 'family member'
PRIME MINISTER Patrick Manning is expected to give an important "recognition" nod on Cuba today as a "family member" of the Caribbean-Latin America region.
Ban Ki-moon: World on edge
UNITED Nations Secretary General Ban Ki-Moon yesterday warned the world was "on the edge" of a political crisis, and urged leaders at the Fifth Summit of the Americas to work together to head it off.
MacFarlane: Hillary fell for T&T mas
United States Secretary of State Hillary Clinton, so impressed by the multi-million dollar cultural show that followed Friday's historic opening of the Fifth Summit of the Americas, has said she intends to return for Carnival 2010.
Canada PM wants Cuba embargo lifted
Canada's PM: Embargo up to US, Cuba
Although Canada feels that the US trade embargo against Cuba is not the way to go, its removal is ultimately a matter between Cuba and the United States, Canada's Prime Minister Stephen Harper said yesterday.
China sends red flower for Summit
Time ripe to rectify Cuban sore point
Sparrow headlines cultural show
The Calypso King of the World, Mighty Sparrow, will headline today's Summit of Culture taking place at the Queen's Park Savannah, Port of Spain.