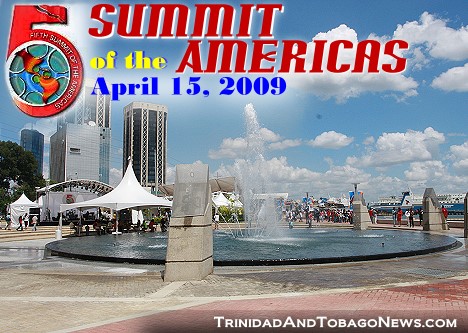 The Fifth Summit of the Americas in pictures
Manning opens 'People's Summit'
PRIME Minister Patrick Manning yesterday declared open the Fifth Summit of the Americas which he dubbed, "the People's Summit", as he launched the Civil Society Forum onboard the cruise ship, Caribbean Victory, which is docked in Port-of-Spain.
Panday still waiting for Summit invitation
UN Secretary General comes to PoS
A SURPRISE high-profile celebrity has been added to Prime Minister Patrick Manning's guest list for the Summit of the Americas. He is United Nations (UN) Secretary General Ban Ki-Moon.

End the embargo
ONE DAY after US president Barack Obama lifted major restrictions on the travel of Cuban- Americans to Cuba and eased restrictions on remittances to the island, former Cuban President Fidel Castro yesterday urged Obama to go all out and lift the US trade embargo on the communist state.
Door opens for Cuba
THE United States President Barack Obama's decision to allow Cuban/Americans to travel freely to Cuba and to remit unlimited sums of money to Cuba as well, is a demonstration that he is not prepared to be fettered by long outdated policies.
What of FTAA, Mr Obama?
Trinidad and Tobago's Prime Minister, Patrick Manning, should formally raise with United States of America President, Barack Obama, at the upcoming Fifth Summit of the Americas, the resumption of talks for the establishment of the Free Trade Area of the Americas (FTAA).
Alarms go off, Hyatt evacuated
700 forced to vacate summit building as fire alarm trips
T&TEC 'error' causes panic
Panic erupted yesterday at the International Financial Centre in Port-of-Spain, when the building in which the National Secretariat of the Fifth Summit of the Americas is located was evacuated, after a power failure.
Long delays at Accreditation Centre
Glitches in the accreditation process by the National Secretariat for the Fifth Summit of the Americas yesterday forced participants to endure hours of delays in the procedure.
Morales coming for Summit
BOLIVIAN PRESIDENT Evo Morales yesterday confirmed he will be in Trinidad on Friday to attend the Fifth Summit of the Americas.
Cops move into floating hotels
Fitun still awaits approval for march
Brown: Govt wants to set civil agenda
Hazel Brown, co-ordinator of the Network of Non-Governmental Organisations for the Advancement of Women, says the Government is trying to control every aspect of the Summit preparation, in particular, setting the agenda for the Civil Society Forum.
Brown: Let us see the draft
…the latest version of the draft declaration that will be signed by the heads of States at the Fifth Summit of the Americas at the weekend.
Finance Minister seals Andean deal
Unity, a must for Caricom at summit
Poor scores for T&T on summit index
Trinidad and Tobago has received very poor scores on a performance index on the implementation of mandates from the last four Summits of the Americas.