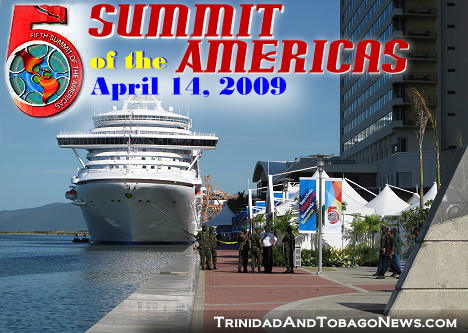 The Fifth Summit of the Americas in pictures
Mariano: Everything's on track
Chairman of the Inter-Ministerial Committee, Mariano Browne, says "everything is on track for a good summit."
Manning pleased as big opening day draws near
Obama talks at summit opening
United States President Barack Obama will speak "live" in Trinidad on Friday at the Opening Ceremony of the Fifth Summit of the Americas at the Hyatt Regency Hotel, said Prime Minister Patrick Manning.

US Labour Secretary coming for talks
1,200 journalists coming for summit
Communications co-ordinator of the Fifth Summit of the Americas, Felipe Noguera, says about 1,200 media personnel from 34 countries will visit for the Summit from April 17 to 19.
Over 750 journalists registered so far
Media question 'pooling'
When asked about the selection process, she [Globecast representative, Melanie Gibb] could not reveal details. However, she indicated that because of the number of countries covering the mega-meeting, only one member of the local media may be chosen for a pool.
NEWS UPDATE: Evo Morales suspends hunger strike
…after Congress approves new electoral law
NEWS UPDATE: Bolivia Enacts New Electoral Law
No word yet on Bolivia's Morales
Venezuela's Chávez Pledges Support for Hunger Striking Morales in Bolivia
Morales had announced that he will skip the Summit of the Americas in Trinidad and the summit of the Latin American trade bloc ALBA in Venezuela this week, unless the Bolivian Senate passes the law.
'Corn soup, callaloo will set Evo right'
PRIME Minister Patrick Manning half-jokingly invited Bolivian President Evo Morales to try some Trini crab and callaloo to "set him right", even as word came that Morales will miss the Fifth Summit of the Americas from Friday to Sunday as he yesterday entered his fifth day of a hunger strike.
Flight delays, youth talks start late
DELAYS in the arrival of delegates yesterday hampered at least two of the events which were scheduled to take place before the start of the Fifth Summit of the Americas on Friday.
Princess, Victory dock in PoS
WITH its horn blaring, the majestic cruise liner Caribbean Princess announced its arrival at the spanking new multi-million dollar Port-of-Spain International Waterfront at 5.15 pm yesterday.