By Jada Loutoo
Thursday, April 16 2009
newsday.co.tt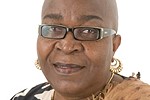 CHILD rights activist Verna St Rose Greaves yesterday chose to take her lobby outside the Hyatt Regency, instead of attending the Civil Society forum, which was taking place metres from where she held her one-person demonstration, outside the Carnival Victory cruise ship.
She wore a white dress, splashed with red dye to represent blood and carried a poster which read "Shame on a Nation. You neglect children, women, poor, homeless, communities in need, persons with disabilities." On the poster were photos of Akiel Chambers and Amy Emily Annamunthodo, both victims of murder. Ringing a brass bell and shouting at the top of her voice, a barefooted St Rose Greaves said she chose the public place to speak out against what she called the injustice being done to the children in the country.

"I am nauseated and horrified," she said, adding that millions were spent to spruce up the place for the Fifth Summit of the Americas, while children were being killed, many of them still living on the streets, women being raped and murdered in their homes and the homeless were being hidden away.
"Millions of dollars are being spent but what can it do for us?" she asked, pointing out that a Children's Authority was yet to be established. I have worked in this country and have seen little change," she said, as she stood between two parked cars, trying to get the attention of the passing motorists on the busy Wrightson Road, just outside the Hyatt.
"The public does not need the summit," she said. She said she had no confidence in this country's leaders, and asked whether the summit being held here in Trinidad was really the best thing for Trinidad and Tobago.
"The children have no protection. Look at how they (parliamentarians) behave in Parliament with the corruption and squandermania taking place," she said.
St Rose Greaves, although being abused by people who told her the summit was a "good thing for the country," said she was standing her ground.
Behind her, a white cloth was spread between two lamp posts, in front of the murals at the International Financial Center, on which there were a child's tea set, flowers, a vase and other items.
After leaving her post on Wrightson Road, St Rose Greaves, still barefoot, walked down to the fountain at the Summit Village on the Port-of-Spain Waterfront promenade, where she was accosted by security officers who took away her bell and poster, and called for backup.
http://www.newsday.co.tt/news/0,98552.html