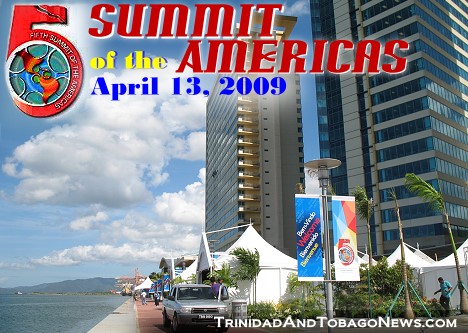 The Fifth Summit of the Americas in pictures
Chavez holds own talks: Nations meet in V'zuela
Three days before the Fifth Summit of the Americas, scheduled for April 17-19, a group of Latin American and Caribbean leaders led by Venezuelan President Hugo Chavez will meet in Caracas to discuss new paths for regional integration, trade and cooperation.
Much conflict and contradiction
Questions were being raised about the alleged breaking of the rules, the outright refusal to be governed by the rules, about the refusal of the UDeCOTT leadership to submit to ministerial oversight.

We are working to get it right—Browne
With four days to go for the start of the Fifth Summit of the Americas, chairman of the Inter-Ministerial Committee, Mariano Browne, says all stakeholders are working together "to get everything right."
Trini banquet
US PRESIDENT Barack Obama and his wife Michelle will on Saturday dine in fine style with 33 other leaders…
Residents plan lock-down
RESIDENTS of Oropune Gardens in Piarco will virtually be in "lock-down mode" during the Summit of the Americas…
Summit Secretariat bandit nabbed at Airport
TT at its Summit
This coming weekend is an historical and momentous one for Trinidad and Tobago, which though only a small dot on the New World map, we host the Fifth Summit Of The Americas.
Tight security for C'wealth meeting
Same as Americas Summit