Trinidad & Tobago Guardian
December 26, 2017 – guardian.co.tt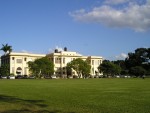 KINGSTON—The University of the West Indies (UWI) is backing Caribbean Community (Caricom) governments in protesting the European Union's (EU) recent blacklisting of regional countries it considers tax haven.
In a statement issued, Vice-Chancellor Sir Hilary Beckles said the UWI "stands with the governments of the Caribbean in protesting the recent actions by the EU and calling for a more transparent and equitable regulatory system and joins the call for the EU to enter into a process to resolve the issue."

"To this end, The University of the West Indies will continue to put its expertise and research capacity at the service of governments, the private sector and regional organizations to craft appropriate policy responses," he said.
On December 5, the EU named Barbados, Grenada, St Lucia, and T&T among 17 countries it considers tax havens. It said those nations were not doing enough to deal with offshore avoidance schemes.
Sir Hilary warned the unilateral move stood to have a deleterious effect on these economies, while accusing the EU of singlehandedly "derailing" and "undermining" the global financial system.
Full Article : guardian.co.tt