By Raffique Shah
November 30, 2017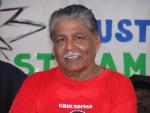 I am not optimistic over the Prime Minister's promise to citizens that the near-riot that erupted for the umpteenth time last week in the Beetham community will not occur again.
Dr Keith Rowley said he has directed the heads of the Police Service and the Defence Force to ensure that law and order are enforced in Beetham and elsewhere in the country even as people exercise their right to protest. He called for those who used the recent disturbance to engage in criminal acts to be prosecuted, and acting Commissioner of Police Stephen Williams said he had a team of officers examining video footage of the mayhem to identify and arrest the culprits.

Now, I don't know how many of you felt comforted by these pronouncements, but I wasn't. And I feel certain that comedienne Nikki Crosby and other motorists who were trapped in their vehicles for several terrifying hours will not overcome the fear they experienced on the say-so of the PM and the CoP. If anything, the tens of thousands of commuters and motorists who must use those gateways to the capital city daily will suffer anxiety for a long time to come.
Bear in mind it was not the first time that certain elements in Beetham, always mindful of their strategic control of the main arteries into and out of Port of Spain, have literally severed the flow of traffic. On at least ten occasions in the past five years they have ignited blazing blockades, strewn debris, hurled missiles at hapless motorists, and sometimes simply used obstacles and guns to force motorists to stop, and rob them of valuables.
More ominously, it was not the first time they sent the forces of law and order into disarray if not full retreat, something that startled me when I first saw it on television a few years ago. In shock, I watched armed soldiers, seemingly disorganised and leaderless, take flight as a motley group of residents, among them women and children, advanced on the troops hurling abuse, bottles and rocks.
Contrary to all military protocols pertaining to dispersing or otherwise dealing with unruly mobs, those soldiers seemed to not know the standard drill in such situations. I scanned the video looking for the senior officer who would take charge of the volatile situation: there was none. The mob advanced and sent the soldiers scampering for safety, not the other way round, which is textbook military strategy and tactics.
That was some three years ago.
Last week's pathetic display by the police and army instilled no confidence in the law-abiding public. I saw armed officers among the mob, leaderless again, in no particular formation. What if a few powerfully-stupid persons had grabbed some of those guns?
Something is wrong in and with the military forces, or maybe many things are. The police are a near-impotent. They abuse ordinary minor offenders, beat them to pulp. But when the thugs from crime-ridden districts stand up to them, \attack them, they put their tails between their legs and flee.
And these are the agencies the PM is relying on to rescue the nation from the clutches of the criminals embedded in Beetham and almost everywhere else across the country?
My training in warfare may have been a zillion years ago (51 years, actually), but there are some fundamentals in military science that apply for all times. Dealing with a hostile, unruly mob is one. It involves the unit assigned to restore order staying in a tight formation, the leader calling on the mob to disperse, and if the riotous conduct continues, the use of tear gas. If that fails, the officer orders random riflemen to fire single shots at specific targets, the perceived instigators, until order is restored.
The above may come across as harsh, but it is the standard drill to deal with riots-which is what happened in Beetham last week. In fact, after peace was said to have been restored, there were random attacks against buses and other vehicles using the Priority Bus Route. Are we going to continue to expose law-abiding motorists and commuters to such threats to their lives when the immediate solution lies in "taking out" the criminal elements?
I can hear the sociologists and pacifists baying for my blood (yeah, shoot Shah instead!), talking about how many good citizens dwell in Beetham and similar crime-infested communities. I know that, I'm all for rescuing the good people, especially the children, from the crime-spiral that dogs their lives daily, intent on sucking them into the vortex of lawlessness.
I have focussed on Beetham only because it's the most immediate threat to public safety. I apply similar zero-tolerance measures to scores of other communities that believe they have the right to block other roads with blazing tyres and other debris to grab government's attention.
Yes, all citizens have the right to protest, to strike, to peacefully picket, and so on. But for far too long we have allowed protestors to get away with unbridled lawlessness, and in the case of Beetham, endanger the lives of innocent people.
Lock them up, I say. And if they persist, shoot the leaders and instigators. Bet we'd see a dramatic drop, if not complete elimination, of such unacceptable behavior.