By Brad Blankenship
November 22, 2017 – telesurtv.net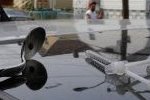 Opioids, a class of drugs chemically similar to the painkiller morphine, have been sweeping across North America since the late 1990s into the first two decades of the 2000s. These powerful sedative drugs, which include prescription painkillers like oxycodone and powerful street drugs such as heroin, are extremely deadly because their depressant effects can stop a user from breathing. Because of their widespread and ever-increasing use, drug overdose deaths "are the leading cause of injury death in the United States," according to the U.S. Department of Health & Human Services (HHS).

According to HHS statistics from 2015, 12.5 million people in the U.S. abused prescription opioid drugs – including 2.1 million first time users, and another 828,000 used heroin – including 135,000 first time users. Together, 33,091 people died from opioid drug overdoses and the economy took a $78.5 billion hit as a result of lost productivity. However, the blight of drug addiction, which is commonly thought to be an equal opportunity life-destroyer, is actually discriminatory in who it targets. Drug addiction hits those who are economically disenfranchised harder than those who are secure in employment and have well-paying jobs.
As Maia Szalavitz, an author on drug addiction, wrote in The Guardian:
"In many black communities, before crack took off, unemployment rates had been high and rising, driven by the decline in manufacturing jobs and biased hiring and firing practices… and [now] white America looks economically a lot more like black America in the 1990s: stable, well-paying jobs are disappearing, replaced by lower-wage positions with far more uncertainty."
As good high-paying jobs, particularly manufacturing jobs that were once common in the "Rust Belt," disappeared, drug addiction spiked beginning in the late 1990s in the white working class. Statistics show that drug use rates are higher amongst the unemployed, and far higher for those who are chronically unemployed or underemployed.