…found in house hours after 'public' meal
By Jensen La Vende, Kevon Felmine
December o1, 2017 – guardian.co.tt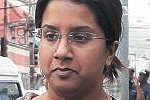 Three days after alleged fraudster Vicky Boodram escaped from the Women's Prison at Golden Grove, Arouca, she was recaptured in Penal last night.
Officers from the Criminal Gang and Intelligence Unit, acting on intelligence, went to a house at Sunchine Drive off Lachoos Road, just before 7 pm. They later found Boodram, 35, hiding in the house.

Boodram was subsequently taken to the Penal Police Station where she was questioned.
A 32-year-old female occupant of the house was also detained and faces charges of harbouring a fugitive.
Around 9.05 pm, after officers had interrogated Boodram for close to two hours, she was taken away in a convoy of police vehicles.
Police said residents in the area claimed Boodram was seen earlier on yesterday eating at a fast food restaurant along the SS Erin Road. A member of the public who recognised her reportedly alerted the police.
After gathering more intelligence, officers also tracked her down by tracing a cell phone signal after she tried to use a sim card previously registered in her name.
Meanwhile, a man who reportedly fell in love with Boodram is said to have assisted in her plot to escape from the Women's Prison at Golden Grove, Arouca, on Monday.
Full Article : guardian.co.tt
Cop confesses: 'I helped Vicky escape'
A POLICE officer in custody in connection with the escape of alleged fraudster Vicky Boodram, has allegedly confessed to assisting her.
Vicky Boodram sprung from prison
Cop uses colleague in escape con
By Jensen La Vende
November 29, 2017 – guardian.co.tt
In what is being touted as the greatest escape in the history of the country, alleged fraudster Vicky Nirupa Boodram walked out of the Arouca Prison on Monday afternoon and has not been seen since.
Boodram, 35, whose last known address was 34 Gambal Street, Siparia, had been on remand since March 2016 after being denied bail on 39 fraud charges. She has 175 fraud matters before the court beginning in 2012.
According to both police and prison sources, Boodram was taken from the prison on the authority of a court order. Sources said two police officers attached to the Tunapuna Police Station, which is charged with responsibility for prisoners scheduled to appear in court from the Northern Division, went to the Women's Prison and removed Boodram on Monday. The officers, a male and a female, went in a marked police vehicle and were accustomed to collecting prisoners at Golden Grove for court.
Prison officials said they thought nothing untoward about the officers coming with what they presumed were legitimate court documents stating Boodram was scheduled to attend night court. Prior to the officers' arrival at the prison just after 5 pm, prison officials were telephoned and told Boodram had secured bail in all her matters.
After collecting Boodram, the male officer returned to the station where he dropped off his colleague and left with Boodram. Neither he nor Boodram has been seen since. The female officer was being questioned by officers of the Professional Standards Bureau up to last evening.
Full Article : guardian.co.tt
More:
Prison Service: Don't blame us, the cops did it
THE Prison Service is defending its reputation against a flood of criticised following the "release" of accused fraudster Vicky Boodram from the Golden Grove Prison, Arouca on Monday.
Update: Second cop in custody in Vicky escape
The Express has learnt that a second police is being questioned in connection with the escape of Vicky Boodram.
Nationwide search for Vicky
…as CoP orders probe