By Chike Pilgrim
March 09, 2007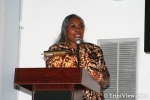 "THE CLASSICAL AND THE CONTEMPORARY"
2nd Part in a 4 Part Series put on by The University of T&T.
Lecture: "African Heritage in the Caribbean" – given by Professor Maureen Warner-Lewis.
The Lecture began in the National Library (Hart and St. Vincent) at 7:30pm and finished at around 8:45pm.
Prof. Warner-Lewis focused on eight (8) main areas of African contribution/heritage:
Continue reading 'Lecture: African Heritage in the Caribbean'