Express Editorial
March 14th 2009
Trinidad and Tobago News Blog
www.trinidadandtobagonews.com/blog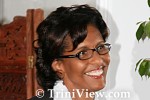 With the charges and countercharges and demands for resignation, we remind readers that the core of the matter is law and the rule of law. It is quite irrelevant that Ms Nunez-Tesheira may not see a conflict of interest in participating in a decision-making of the Government bailout of CLICO and CL Financial. Nor are the views of Prime Minister Manning and of Mr Duprey that there is no conflict of interest. Nor can we accept Minister Enill's advice to consider the bigger picture.
With the obvious conflict, Minister Mariano Browne should properly have been point man, and the finance minister should have stood down from the relevant Cabinet discussions. Whatever individual parties may consider of their preferred definition of a conflict of interest, we remind all that there is the Integrity in Public Life Act 2000 which is the law of the land. And there is no ambiguity in the wording of the law and the normal processes to be followed.
Continue to : trinidadexpress.com
Trinidad and Tobago News Blog's URL for this article:
www.trinidadandtobagonews.com/blog/?p=994