TriniView.com Reporters
Posted: March 10, 2009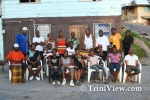 The Picton Folk Performing Company is one of the most recognized cultural groups in Trinidad and Tobago. Coming out of Picton, Laventille, (or as some of the residents prefer to call the area 'Love-Until') this group consists of about twenty-three members, most of whom are young people.

The group was founded in 2006 by deceased President Carlene Hendrickson (See: Sending-Off Carlene Jacobs-Hendrickson). She played a major role in molding the lives of young people in the community. Carlene held various positions in different community groups and she was very passionate about her contributions to them. She was the secretary and youth coordinator for the Picton Police Youth Club, then, after the disintegration of the club, she formed a small dance group in her yard which has now grown into the well-renowned Picton Folk Performing Company – a group noted for having won several awards (including first place in many categories) in the Best Village Competition.
The Picton Folk Performing Company has been involved in many of the major cultural competitions throughout Trinidad and Tobago including being the frontline dancers for Trevor Wallace's band, The Jokers Wild, and the Junior Soca Monarch just to name a few. One of their most outstanding performances was at the 2006 Laventille Steelband Festival when they re-enacted the birth of the Steelpan with a splendid choreographed dance performance. Because of their dedication and hard work the members have contributed to the development of the group. The Picton Folk Performing Company is being kept alive by its members following the passing of Carlene Hendrickson. However, presently, the group is faced with a major challenge of not having a place practice their dance and store their musical instruments. They have to vacate the premises they are presently occupying by March 31, 2009. They are in desperate need of assistance from the general public, the business community and the government.
Please contact the executive members at the following numbers:
President, Darren Corridon – (868) 758-4662
PRO and Dance Choreographer, Carlos Griffith – (868) 306-9395
Secretary, Peggy-Ann Edwards – (868) 727-3596
Assistant Secretary, Claudia John – (868) 364-4195
Costume Mistress, Jacqueline Jack
Triniview.com spoke with some of the members who were eager to share some of their personal experiences with the group as well as their plea for help from the public.
Continue to 'Picton Folk Performing Co. Pleas for Help'